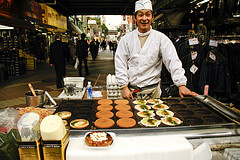 When you find yourself in any big city or town in Japan, you may not find many pizza parlors but you will find Okonomiyaki cafés. Okonomiyaki is comparable to a pancake or a pizza made of flour with other ingredients of your choice such as yams, egg, shredded cabbage or other veggies, meat, or fish mixed in along with water. Once it's fried up it can be topped with a special sauce, fish flakes, or homemade mayo.
Advertisements:



It uses elements of native Japanese cooking, but is a relatively new invention created during the war years when people had to make use of whatever bits of food they had.
Try this dish at least once while you're in Japan, because it's a very social experience as well as a quite delicious one and one of the least expensive meals you can have in Japan. Young people gather at these places like they do in the coffee bars of the United States. Often the fry pan is right at your table and sometimes you can make your own. An okonomiyaki café is an affordable stop when you want to taste something wonderful and experience the local culture in a Japanese city.
Photo credit: Hollerotron @ Flickr
You should follow me on twitter here.