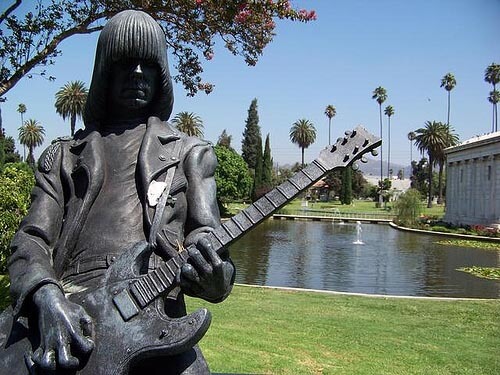 The Hollywood Forever Cemetery in Los Angeles is a very unique place to visit. Often times people do not think of a cemetery as a tourist attraction, but in Los Angeles, what else do you expect? The name of the cemetery is very fitting as many of Hollywood's greats are buried within the confines of the graveyard. Most of the celebrities buried within the cemetery are Christian. However, there is an attached Jewish cemetery named Beth Olam.
The list of famous individuals buried at the cemetery is extremely lengthy. Some of the most famous people buried within the cemetery include Otto Classen, Walter L Ferris, and Benjamin Franklin Hilliker. While this attraction is a cemetery, it is a living cemetery of sorts. Karie Bible, a motion picture historian, regularly leads tours through the confines of the cemetery. Additionally, in the summer time, the cemetery is used to screen movies. These summer time movie screening usually bring large crowds to the cemetery.
This cemetery has been growing in popularity over the years, and has even been featured on several television shows including "90210." The best time to visit the cemetery is obviously during the day, and during the summer when the cemetery is alive with movie screenings, and other activities. If a visit to the cemetery personally moves you, there is still room in the cemetery for more burials. In fact, the cemetery is expanding to fill a growing demand for burials. The cemetery currently has tens of thousands of plots available for purchase.
Advertisements:



The prices are steep, but wouldn't it be cool to be buried among some of Hollywood's legends?
Address
Hollywood Forever
6000 Santa Monica Blvd.
Hollywood, CA 90038
You should follow me on twitter here.