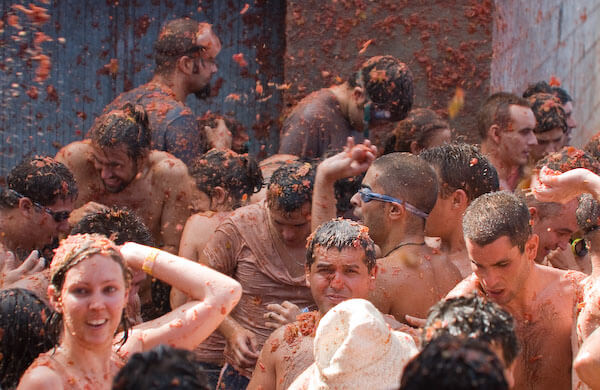 When in Bunol, Spain, don't miss out on La Tomatina festival. Not only is it the world's largest tomato fight, but the festivities begin a week ahead of time and last up until the tomatoes start flying. The festival is held annually and the fun lasts an entire week. The tomato throwing antics themselves are always on the last Wednesday of August every year.
The town comes alive that week with enormous parades, dazzling fireworks, tons of food, and energetic street parties. It is a celebration you won't soon forget because you can enjoy it all week long leading up to the actual tomato fight. You can sample all the wine and food you can digest. The night before La Tomatina the streets are literally filled with tomatoes.
Then over 20,000 people join the battle, hurling tomatoes at anything that moves. The streets are covered in tomato sauce by the end of the day, and so are all the participants.
Keep in mind, if you plan on spectating, or participating, you will want to wear clothes you can throw away because they will be ruined by the end of the festival. There is virtually no way of avoiding getting messy. Also, don't forget to arrive a week early so you can watch a few parades, and attend the street parties because these events are also a lot of fun.
Advertisements:



Photo by agsaran on flickr
You should follow me on twitter here.