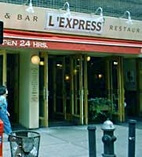 This 24-hour french bistro is a staple of Manhattan nightlife and the last resort for many New York mid-town clubbers.
French food at L'Express
My wife Lauri and I was looking for a decently priced restaurant in the Gramercy Park area and the Time Out New York guide
(buy from Amazon US
) recommended L'Express. They're well known for Lyonesse specialties and sandwiches, fish dishes, the steaks that are consistently great.
For a starter, we shared a plate of Chorizo Brochettes, that were well done and tasty indeed. If you're just after a bite to eat together with a beer, this alone would sort you out.
For our mains, I had the Lyonesse sausages and mash and Lauri a grilled salmon dijonnaise, which came with rice and spinach. Tasting off each other's plates, we realized the food was competent if not brilliant. The bread served with the meal was of reasonable quality as well.
Advertisements:



The beer, wine, and cocktail menu is extensive. A full range of Chimay and Duvel beers will allow the right combination of beer and food, as Lyonesse fare is both salty and fatty.
L'Express is known to have a great breakfast and brunch menu. We didn't get a chance to test this out on this quick visit. That's one for next time.
All in, we paid USD 50 for a meal and drinks, which is reasonable.
Service and venue at L'Express
The service was so-so, efficient but not friendly. Now, it was a mobbed Saturday night and even a two-seat table had a 15 minute wait, but politeness always goes down well. The upshot was that the food arrived quickly and correctly, as did the drink refills.
The restaurant itself is fairly cozy, with dark furnishings and plenty of metal in addition to old French enamel signs. I suppose those are mandatory if you serve French food, but they're still naff!
Worst part is that you're sitting nearly in the lap of the next table's occupants. The tables are placed less than 2 feet apart and you can definitely overhear your neighbors' conversations. This could, of course, be great for anyone with voyueristic tendencies! After all, one of the joys of visiting New York is listening in.
L'Express restaurant & bar contact details
249 Park Avenue South
New York 10003
- at 20th Street.
Phone: +1 212 254 5858
www.lexpressnyc.com
You should follow me on twitter here.