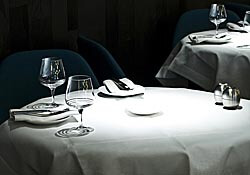 It's that time of year again, when New York restaurants do their absolute best to bring in new customers with discounted menus. Yep, it's Restaurant Week. As has been the case for the last few years, it's not just a single week, but two and a half weeks.
Between July 12 and 31, 2009, a long list of famous restaurants are offering lunch menus for a palatable $24 and dinners for $35. Saturdays aren't happening though, and some places don't do Sundays either. So date night is Monday through Friday for the rest of July. For a list of participating restaurants, check the site.
What you get for your money is an appetizer, main meal, and dessert at each venue. Drinks, taxes, and tips aren't included. While some critics slam Restaurant Week for serving up subpar fare for cheap punters, that's not really true. The meals may not always reach the lofty standards of the venue's a la carte offerings, but they're certainly high quality overall. And at these prices, who can expect absolute perfection?
Try these venues for lunch during Restaurant Week
10 Downing Food & Wine: Less than a year old, this place has a beautiful interior, great light, and big windows facing Sixth Avenue. The West Village location makes it perfect for a shopping break.
Bar Boulud: At his wine bar near Lincoln Center, Daniel Boulud serves wonderful charcuterie.
A Voce: This lush Italian near Madison Square Park is fab.
Esca: In Hell's Kitchen, this Italian seafood place does a great job and is so serene during lunch.
Top dinner spots during Restaurant Week
Anthos: The chef here does elegant modern Greek.
Apiary: Worth checking out for the new chef, hip East Village location.
Elettaria: Its talented, experimental chef weaves Indian flavors into interesting food combos.
The Harrison: This Tribeca spot is helmed by one of the best female chefs in the city and serves duck-fat fries.
Other places for Restaurant Week outside New York
Advertisements:



Restaurant Week may have originated in the Big Apple, but its success has been copied in a number of other American cities. Check out these locations and dates for more cheap eating:
You should follow me on twitter here.