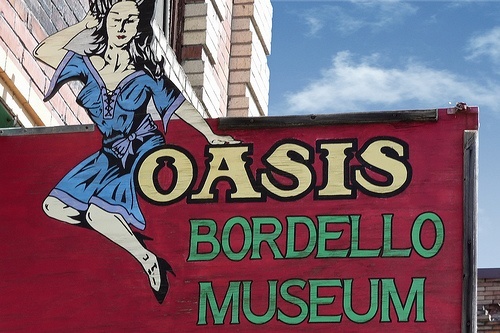 The slogan of the cheeky Oasis Bordello Museum in Wallace, Idaho is both saucy and direct: 'Welcome to the Oasis Rooms - where our business is your pleasure!' In fact, business and pleasure were mixed for quite a few years in Wallace, the town was home at one time to as many as five bordellos operating along the town's main drag.
Advertisements:



Bordellos were popular in Wallace in the 20th century due to the serious imbalance in the town's population; during the Idaho silver rush in the 1920's, there were 200 men living in town for every woman in residence. The bordellos continued their services fairly openly until a 1973 expose ran in the Boise Statesmen; afterwards, local police cracked down on the operations, and the Oasis finally saw its last paying customers in 1988.
The Oasis Bordello Museum has several bedrooms preserved from those days of active use, although since the bordello abruptly ceased operations in the 80s, the rooms may seem more familiar than you would anticipate! The rooms are decorated with mannequins, dressed in abandoned lingerie, for greater visual impact.
Museum visitors can receive informative, if slightly comical, guided tours every hour on the half hour for a $5 admission fee. The admission fee grants you a souvenir 'certificate of ownership' to proudly take with you on your journeys. You can complete your trip through the seamy underside of Wallace with a visit to the Bordello Museum Gift Shop, where you can purchase replicas of brothel inspector badges, price lists, or garter belts for friends and family back home.
Bordello Museum address and hours
Oasis Bordello Museum
605 Cedar Street
Wallace, Idaho 83873
Phone: +1 (208) 753 0801
The Oasis Bordello Museum is open from 9:30am to 6:30pm Monday through Saturday and 10am to 5pm on Sunday.
Photo by D Guisinger on flickr
You should follow me on twitter here.