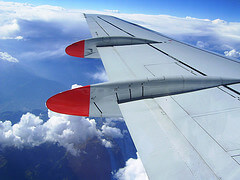 Secure Flight, an airline security program being implemented by the Transportation Security Administration (TSA), aims to enhance watch list matching after a recommendation from the 9/11 Commission. Upcoming changes are designed to make everyone safer and reduce errors in watch list matching.
Advertisements:



The program is a collaborative effort between TSA and the airlines, and you'll start to see some changes this summer.  However, this is a phased-in process, and each airline will incorporate changes gradually over the next few months. If you're not prompted to provide the additional information discussed below, your travel will not be affected.
This summer, airlines will begin requesting that passengers use their name as it appears on the government ID they're using when traveling to make reservations.
Beginning in August, airlines will ask passengers to provide their date of birth and gender.
Secure Flight will transfer the responsibilityfor passenger watch list matching to TSA for flights into, out of and over the US. Benefits of this transfer include a decreased chance for compromised watch list data and earlier identification of potential matches. The transfer will also account for a more consistent matching process among airlines.
You should follow me on twitter here.