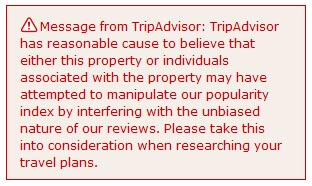 This was long overdue, but TripAdvisor now puts warnings on some pages where they believe the reviews may be unduly influenced by someone associated with the hotel. It's been a prett well known secret that 'user generated' reviews on TripAdvisor have often been put there by the hoteliers or someone on their staff. After all, it makes sense for the hotels to make sure there are positive reviews about the hotel in question.
Here's what TripAdvisor says in its message:
TripAdvisor has reasonable cause to believe that either this property or individuals associated with the property may have attempted to manipulate our popularity index by interfering with the unbiased nature of our reviews. Please take this into consideration when researching your travel plans.
There's a screenshot of the warning message above. And here's what it looks like on the site.
This was eloquently, and fiercely, highlighted by the Beat of Hawaii blog and it was picked up by Arthur Frommer too.
When I did a quick search, Google had found 142 instances of these warning messages on TripAdvisor, but there are undoubtedly many more. As said, why would a hotel not put up fake reviews? I've always been very careful about the reviews, and have come across one or two dives that had decent or even really good reviews available. There's nothing like a recent personal reference, certainly compared to the minefield of searching online.
But since you really can't trust guidebooks (since they're usually out of date) or newspapers (I should write a piece on press trips), the review sites are the best source for independent hotel information that's available.
Advertisements:



What do you think? Do you trust online reviews? If so, why? Hit the comments!
You should follow me on twitter here.