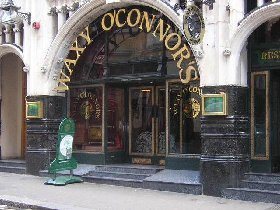 In the heart of the West End, Waxy O'Connors is like no other bar. The fantastic features cathedral like timber carvings, stained glass windows, beautifully tiled floors and the trunk and branches of a giant preserved beech tree.
Advertisements:



From either entrance, on Rupert or Wardour streets, Waxy's looks like yet another faux-Irish watering hole. But it's the inside of the pub that matters, and in this Waxy's doesn't disappoint. There's a warmth to the pub, which is a great achievement as it takes up a huge space between Piccadilly Circus and Leicester Square.
You just might get lost in there
The pub is a maze of rooms, stairways, passages and bars over six levels and three main rooms, each with its own name and athmosphere. The Cottage Bar is O'Connor's biggest single bar, and prominently features the pub's cozy fireplace. The Dargle Bar, down a half-set of stairs, used to be the pub's restaurant section, but is now used as both bar and restaurant. It has a fantastic view of the pub's heart, the Tree Room and the beech tree.
The best place in the bar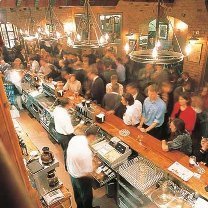 The place you really want to be is the Rupert Street Mezzanine, which rises above the pub's opening bar and allows the atmosphere, but not the clutter, of the action below to fill the air. Gets busy though, so get here on time if you want to sit here.
Waxy O'Connor's offers some good menu options in addition to its pub services. The pub has TV's scattered throughout for sports fans and enough nooks and crannies to offer plenty to look at during a night's wanderings.
Quite popular with the ex-pat crowd (even some Irish can be found if you search hard enough) and friendly as well. During sporting events, there's a big screen and there's often live music or other special happenings.
Waxy O'Connor's directions
14-16 Rupert Street, London
W1D 6DD
Telephone 020 7287 0255
You should follow me on twitter here.