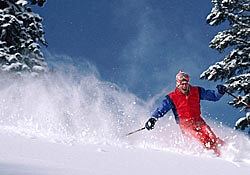 This ski season, the Liftopia.com website has negotiated special discounts and ski pass deals all over the U.S. As both domestic and international tourism is getting absolutely hammered this year, this also means those deals are very favorable for travelers.
Advertisements:



It's quite a simple site, just pick the region you'd like to ski in, pick a specific resort if you'd like, plug in the date and how long you're going for, and hit search. Liftopia.com will now return a set of discounted deals. In Colorado over Christmas, I found a 16% off the lift pass price at Ski Cooper for a week, making it $35.42 per day on the ski slopes.
The site also has plenty of information on the individual ski resorts, so you won't have to buy a pig in a poke if you're unfamiliar with a specific area. There's also ski gear shop on the site, and you might be able to find some bargains there too.
The site's easy to use, there are plenty of deals... What have you got to lose?
Go to Liftopia.com and check out the deals
You should follow me on twitter here.