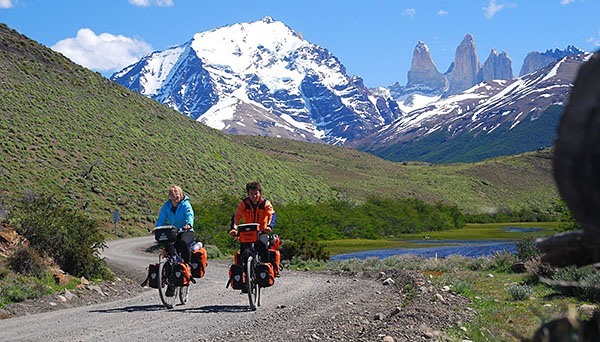 You've heard it before, but you can never hear it enough: Plan to pack according to the weather. A three-day biking tour through dry terrain will differ greatly in regards of what you need to pack from a pedal through rainforest-lined blacktop.
Also, while you do have those panniers to carry your load, it's better to aim for the less-is-more approach. Packing less will increase your balancing ability, reduce weight drag, and give you spare room for that fantastic souvenir that you encounter during your bike tour, especially if you're weaving into small towns while touring.
Advertisements:



For the heavily-laden, also consider one of the new towing trailers that you can attach to your bike; there are some that can handle most singletrack routes, though you'll be going slowly.
All-season clothing
Helmet
Sunglasses
Jersey
Fleece vest or jacket
Wicking tees
Wicking long-sleeve top or jersey
Arm and leg warmers
Cycling shorts (2)
Soft-shell pants
Wicking underwear
Cycling shoes
Off-bike footwear
Wicking socks
Padded cycling gloves
Non-cycling convertible pants
Wet or cold weather add-ons
Waterproof and breathable jacket and pants (hard or soft shell)
Waterproof and breathable gaiters
Weather-resistant gloves or overgloves
Goggles
Helmet liner, skullcap, or stocking cap
Mid or expedition-weight base layers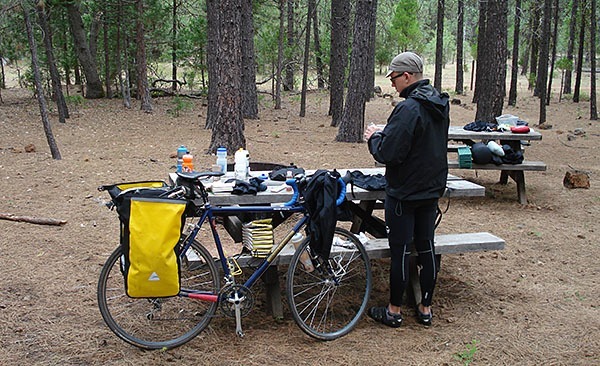 Travel gear
Handlebar bag (with clear map slot)
Front and rear panniers with rain covers
Seat bag
Water bottles
Hydration pack
Headlight and taillight
Headlamp
Batteries
Rearview mirror
Bungee cords and compression straps
Accessory cord (25+ feet)
Lock
Maps and guidebooks
Cyclometer
Cell phone or PDA
GPS
Watch with altimeter and alarms
Tools and spare parts
Spare tubes (2+)
Spare tire
Spare spokes (6+)
Bike-specific multi-tool (with spoke wrench, allen wrenches, screwdrivers, etc)
Multi-tool (with vise-grip and needle-nose pliers, knife)
Spoke wrench (sized for your spokes)
Chain lube
Chain tool
Spare chain link
Compact tire pump with gauge
Tire levers
Patch kit
Adjustable crescent wrench (6-inch)
Brake and derailleur cables
Assorted nuts and bolts
Duct tape
Emergency whistle
You should follow me on twitter here.