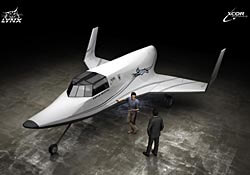 Not content with leaving the space tourism market to Virgin Galactic and Rocket Racing, XCOR has pitched their bid for blasting paying passengers into space. As the 3rd player to enter the market, they've put together an offering on their Lynx suborbital space ship that promises to lower the ticket cost as well as the environmental impact of space travel.
Advertisements:



To help lower the damage done by sending metal and plastic, as well as passengers, into space with rocket engines, the Lynx craft sports non-toxic propellants, clean-burning efficient engines, and a fully reusable system. Which is of course great news.
XCOR probably has the most experience in private rocket engines and trials, with over 3,500 startups and more than 50 demo flights undertaken. It's good to know if you're considering flying with them, as there's a not-insignificant chance of something going wrong when you're essentially strapped into a glorified fireworks piece. OK, that may be a little derogatory, but rocket ships aren't all that safe.
Tell me, are you prepared to become a space tourist? Leave a comment below and let other readers know.
You should follow me on twitter here.