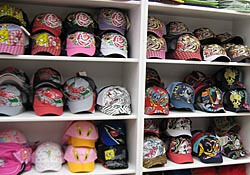 The list is endless as to what can be found on the streets of Downtown Los Angeles. The Santee Alley is comprised of hundreds of stores that offer both wholesale and retail items. The majority of items that can be bought are clothing, much by young local designers trying to make a mark. This makes Santee Alley a heaven for any fashionista on a budget. I remember buying all my prom dresses in the alleys of Downtown Los Angeles, beautiful gowns at deep discount prices.
Advertisements:



None of the stores are brand name, like those found at the mall, but they carry brands that can be found at any department store, but at a fraction of the cost. Keep in mind that the streets can get very congested and parking can be difficult, so plan wisely. Saturdays are the busiest, since many of the wholesalers also sell to the general public. Shopping in Downtown Los Angeles is a must for any fashionista visiting the city.
Photo by fineartlady on flickr
You should follow me on twitter here.