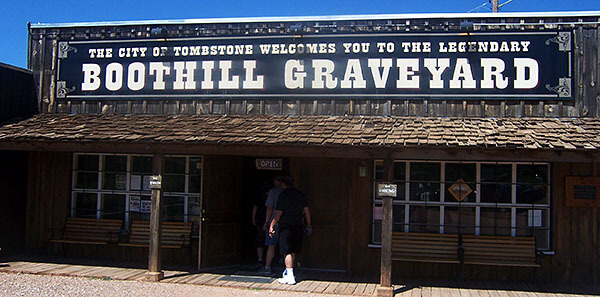 A visit to Boothill Graveyard in Tombstone, Arizona is a chance to step back into time. Visitors will recognize famous names from the Old West, such as Billy Clanton and Frank and Tom McLaury, who died in the infamous Gunfight at the OK Corral. It's also known as the Boothill Cemetery.
Located on a hill that overlooks the northern part of town, the cemetery was in use until about 1884. After that, the site fell into disrepair but was later restored and reopened as a museum. More than 300 people are believed to be buried in Boothill Graveyard, but some people, particularly immigrants, were buried in unmarked graves and some grave markers have reportedly been stolen as souvenirs so the number is an estimation.
Advertisements:



Pick up a map of the Graveyard at the visitor's center to get an explanation of how the individuals died. Not all graves need an explanation, though. For example, the grave marker of George Johnson (died 1882) reads: "Hanged by mistake. He was right, we was wrong. But we strung him up and now he's gone."
Viewing the tombstones of everyday people also gives visitors an idea of how difficult life was in Arizona in the 1800s. And after dark, keep your eyes peeled for the ghosts of the Clanton gang who reportedly make frequent visits to the Boothill Graveyard. Plan your visit to Boothill Cemetery as your last stop in Tombstone so you will be familiar with some of the more famous "inhabitants" of the Graveyard.
Boothill Graveyard location and hours
Boothill Cemetery
408 North Highway 80
Tombstone, 85638 AZ
Admission to Boothill Graveyard is free, but a small donation requested.
Photo by CWaterhouse on flickr
You should follow me on twitter here.