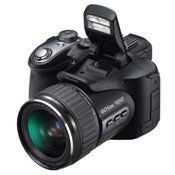 Today I ran across the Casio EXILIM EX-F1 - a six megapixel camera with 12x zoom and some very impressive burst shooting capabilities. The camera captures up to 60 frames per second at full resolution and a staggering 1200 fps if you drop the image size to 336 x 96. And you can also shoot 1920 x 1080 Full HD movies at 60fps.
Helping to ensure the elusive travel moment isn't missed is a buffer system which continually updates then saves the contents to card when the shutter is released. Lighting is taken care of by a conventional strobe which works at up to 7 fps and a cellphone-style LED for 10-60 fps.
Another cool feature is a Sensor-shift image stabilization system to help you get rid of camera shake. Perfect for when you don't have a tripod available. In other words, nearly always.
This camera is available from Amazon.com from $1299.
You can also find this camera at Amazon.co.uk for about £500.
Here's a full press release about this cool camera::
EXILIM Pro EX-F1: A high speed digital camera boasting the world's fastest
*

burst shooting performance

The EXILIM Pro EX-F1 incorporates a new high speed CMOS sensor and high speed LSI processor. After building in 6.0 million effective pixels and a 12X optical zoom, the developers focused on achieving a burst shooting speed capability that was hitherto unheard of. Using the camera's ultra-high speed burst shooting for still images or its high speed movie recording mode, users can capture a split second's movement with greater detail than before, allowing them to catch each decisive moment, and even motion that the human eye cannot ordinarily perceive.
*As at January 6, 2008, based on a Casio survey for the consumer market digital cameras.

Advertisements:




Full resolution photography using 60 fps ultra-high speed burst mode captures the crucial moment
Using the still image burst mode, users can shoot at an ultra fast 60 frames per second. In burst mode, the frame rate can also be varied from between 1 and 60 frames per second while shooting. Up to 60 shots can be taken at once, so 60 shots per second for one second, or 5 shots per second for 12 seconds, are possible.

Don't miss that crucial moment, Prerecord Still Images, using ultra-high speed burst function
Users can record images not just at the instant they press the shutter button, but before! Continuously recording at up to 60 images per second, a maximum of 60 images can be saved in the camera's own buffer memory even before the shutter button is depressed. Even if users press the shutter a little late, they will still be able to catch that vital moment.

Slow Motion View function lets users view and capture that critical moment in slow motion during still photography
Users can take photographs while, in the monitor, the momentary action that is before their eyes is displayed in slow motion. It is just as if they have slowed down the passing of time. Users can unhurriedly observe the motion of the subject as they press the shutter, ensuring that they never miss that crucial moment.

Rapid Flash function allows continuous shooting even in low light
It is possible while using flash to take up to 20 continuous shots at a speed of up to 7 frames per second, so even in low light, no more missed shots. Also, the internal LED light allows high speed burst shooting at between 10 and 60 frames per second.

High speed movie recording at up to 1,200 fps
The EXILIM Pro EX-F1 can record high speed movie footage of motion too fast for the human eye, for ultra slow motion playback. Users can select a recording speed of 300 fps, 600 fps or 1,200 fps. There is also a Movie Button that lets users quickly start movie recording without first switching from still image mode.

Full High-Definition movies
The camera features Full High-Definition movie recording capability. Users can record beautiful movies at a screen size of 1920x1080 pixels, at a rate of 60 fields per second. The camera can be connected to an HD compatible television with a separately available HDMI cable to enjoy viewing movies.
Casio EXILIM Pro EX-F1 specifications
Sensor

• 1/1.8-inch high-speed CMOS Type CCD
• 6.6 million pixels total
• 6.0 million effective pixels

Image sizes

• 2816 x 2112
• 2816 x 1872 (3:2)
• 2816 x 1586 (16:9)
• 2304 x 1728
• 2048 x 1536
• 1600 x 1200
• 640 x 480

Movie clips

• Standard: 640 × 480 (30 fps)
• HD: 1920 × 1080 (FHD HQ/FHD Normal, 60 fields per second), 1280 × 720 (HD LP, 30 fps)
• Hi-Speed: 512 × 384 (300 fps), 432 × 192 (600 fps), 336 × 96 (1200 fps)

File formats
• Still: RAW (DNG*1), JPEG (Exif Version 2.2), DCF 1.0 standard, DPOF compliant
• Movie: MOV format, H.264/AVC, IMA-ADPCM (stereo)
Lens
12 lenses in 9 groups, including aspherical lens
Approx. 36 to 432mm 35mm equiv. (12x Zoom)
F2.7 (W) to 4.6 (T)
Image stabilization
Yes, Sensor-shift
Conversion lenses
No
Digital zoom
4X (48X in combination with optical zoom)
Focus
• Contrast Detection Auto Focus
• Auto Focus
• Macro Mode
• Infinity Mode
• Manual Focus
AF area modes
Spot, Free or Tracking
AF assist lamp
Yes
Focus distance
• AF: Approx. 40cm*2 to ∞ (W)
• Macro: Approx. 5cm*2 to 50cm (W)
• MF: Approx. 5cm*2 to ∞ (W)
• Infinity Mode: ∞ (W)
Metering
Multi-pattern, center weighted, spot by imaging element
ISO sensitivity
Auto, ISO100, ISO200, ISO400, ISO800, ISO1600
Exposure compensation
-2EV to +2EV (in 1/3EV steps
Exposure bracketing
Yes
Shutter speed
• Auto: 1 to 1/2000 second
• Aperture Priority AE: 1 to 1/2000 second
• Shutter Speed Priority AE: 60 to 1/40000 second
• Manual: 60 to 1/40000 second
Aperture
• Auto: F2.7 (W) to F7.5 (W) (using ND filter)
• Manual and Aperture Priority: F2.7 (W) to F7.5 (W)
White balance
Auto WB, Daylight, Overcast, Shade, Day white FL, Daylight FL, Tungsten, manual WB
White balance fine tune
No
Self timer
10 seconds, 2 seconds, Triple Self-timer
Continuous shooting
60 fps at full resolution for 1 second or 5 fps for 12 seconds
With flash: 7fps
Flash
Modes: Auto, Flash Off, Flash On, Red Eye Reduction, External Flash
Range: Approx. 0.5 to 10.4m (W), approx. 1.1 to 6.3m (T)
Viewfinder
Electronic Viewfinder, 0.2-inch, 201,600 dots
LCD monitor
2.8-inch wide TFT color LCD (Super Clear LCD), 230,160 dots (959 × 240)
Connectivity

USB/AV port, HDMI™ Mini Connector (output), hot shoe, external microphone jack, AC adaptor connection (DC-IN)

Print compliance
DPOF compliant
Storage
SDHC Memory Card, SD Memory Card, MultiMediaCard, MultiMediaCard plus compatible
Power
Rechargeable lithium ion battery (NP-100) x 1, AC adaptor (optional)
Weight (no batt)
671g
Dimensions
127.7 (W) x 79.6 (H) x 130.1 (D)mm
In conclusion
I really like this camera, and it should be a forerunning option for your next all-in-one travel camera. The fact it takes great quality video really sets it apart from the competition. It's not a cheap camera by any means, but could kick your travel photo results up a notch or two.
You should follow me on twitter here.