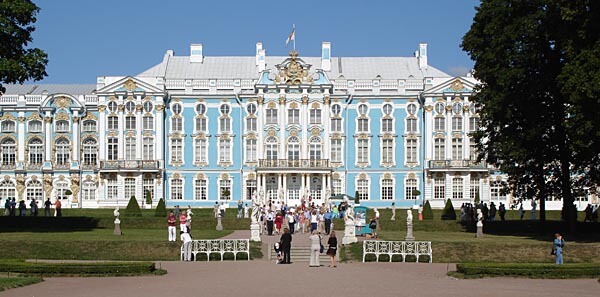 Catherine's Palace is located in Tsarsoye Selo, at the town of Pushkin, 25 kilometers southeast of St. Petersburg, Russia. This beautiful Rococo palace was the summer residence of many Russian tsars. It is well worth the miles just to see the glory and splendor of the Russian tsars. They built many lavish palaces but this one is a shrine to the glorious Catherine the Great and the wealth of her mother, Empress Elizabeth. It was commissioned by Catherine I of Russia in 1717. The original architect was Johann-Friedrich Braunstien. It was built to be Catherine's summer house.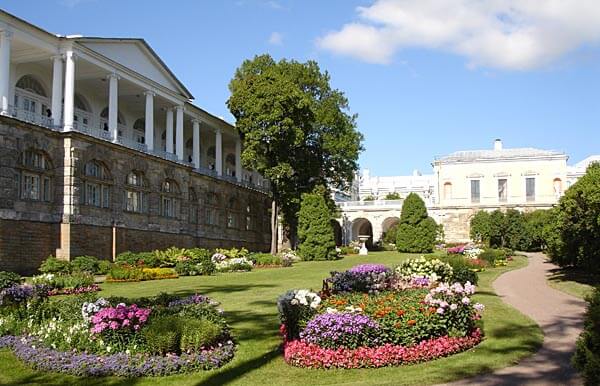 In 1733, it was expanded b Empress Anna and by 1752, the old structure had been torn down by Empress Elizabeth. Elizabeth was known for her extravagance and the palace was no exception. She added a grander edifice and used over 100 kilograms of gold on the obscenely lavish exterior. She also overhauled the Hermitage Pavilion that was built in 1744. Upon Elizabeth's death, Catherine the Great had all renovations planned by her mother halted due to the outrageous amount of rubles already spent on the structure. She saw this palace as "whipped cream."
Advertisements:



After the death of Catherine the Great, this location was abandoned in favor of Pavlovsk Palace. Changes were not made to the palace until Alexander I refurbished the interior. During World War II, Catherine's Palace was looted and the interior destroyed by Nazi's. Much was restored in time for Tercentenary of St. Petersburg in 2003; however, much is left to do.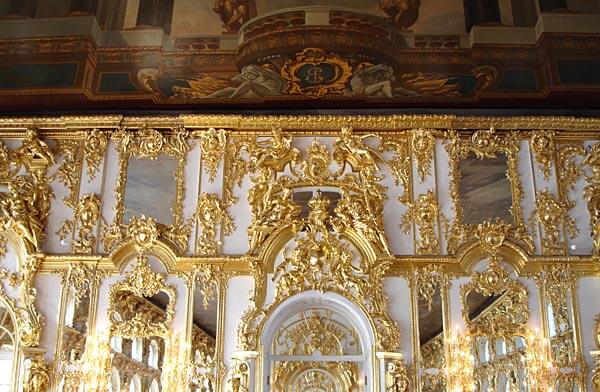 Another beautiful site to see is the reconstruction of the Amber Room located in Catherine's Palace. It is a grand room made of Amber, gold leaf, and mirrors. Some regard this as the eighth wonder of the world. It was disassembled by Germans during World War II. It has been thought to be lost or destroyed however, some original pieces have been found. It was duplicated and inaugurated in 2003. This room can be seen as part of a tour of Catherine's Palace. It's a wondrous sight that you will never forget.
Catherine's Palace location and hours
Catherine's Palace
Pushkin/Tsarskoye Selo
Russia
Opening Hours: Daily from 10am to 5pm, closed on Tuesdays and the last Monday of each month.
Photos by jimg944 on flickr
You should follow me on twitter here.