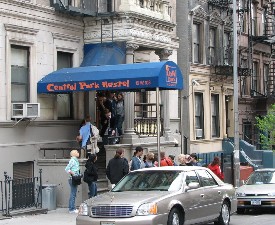 Because it's not nearly as well-known as it eventually will be, and doesn't enjoy the marketing advantages of hostels belonging to the worldwide Hostelling International (to which it doesn't belong), the Central Park Hostel is a top bet for your next New York visit.
Advertisements:



The location is just alongside Central Park, on a fine residential street near the area of Columbia University, and thus near to all sorts of inexpensive eateries, bookstores and other interesting shops. There's a subway stop less than a block away.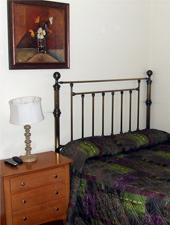 It calls itself a 'luxury hostel,' which really just means its rates are higher than those of the nearby and much larger (and, according to some, better) New York International Hostel. But by the sky-high standards of Manhattan hotel rooms, it's quite a deal to obtain dorm beds here for from $28 to $45 depending on season, or private rooms with shared bathrooms for $89 to $135 depending on season, per room, as you can at the Central Park Hostel. Note that credit cards aren't accepted.
Directions and address
Central Park Hostel
19 W 103rd St (near Central Park West)
New York, NY 10025
You should follow me on twitter here.