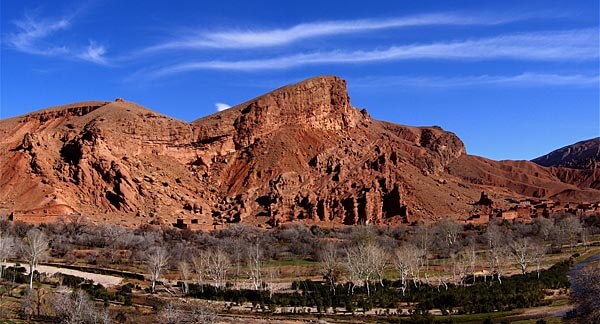 The Dades Gorge is an absolutely gorgeous natural made gorge in Morocco located between the Atlas and Anti-Atlas mountain ranges. It contains a mix of rugged red mountains and lush green forests that give a beautiful view of contrast. The Dades Gorge is one of those few places that has been overall untouched by humans and because of that has that unique, natural beauty that is so hard to find these days. Visitors to the Gorge find themselves enjoying peaceful walks and hikes through the mountains, or if they want more of a challenge, rock climbing.
Advertisements:



Some say that this gorge is one of the best places to go rock climbing because there are so many paths and different levels of challenge to take. If you aren't up for something that extreme though, the scenery is beautiful enough to enjoy just walking around for hours and getting lost in nature.
Now, you might be thinking that maybe Dades Gorge is a little too much nature for you, but don't worry! There are many small towns near the mountain where you can grab a bite to eat and look around when you're tired of walking or mountain climbing. The Dades Gorge is a wonderful place to visit if you need a break from the fast pace of everyday life, and you'll feel completely relaxed (albeit maybe a little sore) after this trip to the peacefulness of nature.
Photo by snarl on flickr
You should follow me on twitter here.