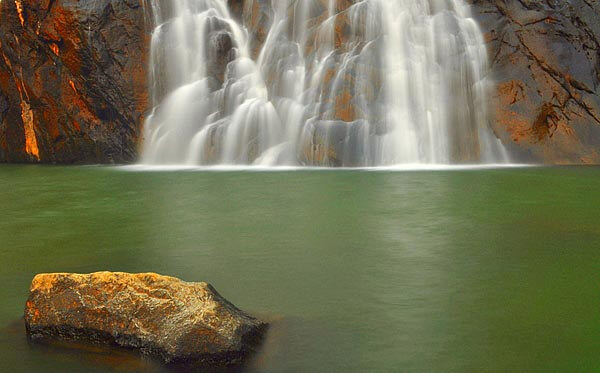 The highest waterfall in Goa, the Dudhsagar Falls, cascades over four tiers and plunges two thousand feet down a mountain in India's Western Ghats. It is an awesome and magnificent sight. There are streams in the jungle around them that overlap each other and the panorama from the top is spectacular, especially in the light of dawn. Getting to the top, however, requires a sure foot, as you will push your way through bushes, over water and around boulders. This may take several hours, so it is a good idea to plan a picnic in the area and spend the day in this tranquil setting.
Advertisements:



If you would like to go for a swim at the bottom of the falls, remember that the water will be calmer during summer when there is less rainfall. The falls are more impressive during monsoon season, which is when the waters will be raging. Just be prepared for more tourists during this time when the flowing, foaming waters look like milk, which gives the falls their other name, "Ocean of Milk."
The best way to get to the falls is via Margoa by a two-hour train ride. The falls have a KTDC rest house near them but there is a better selection of accommodations in Margoa and from there you can take a one-day excursion to the falls.
You should follow me on twitter here.