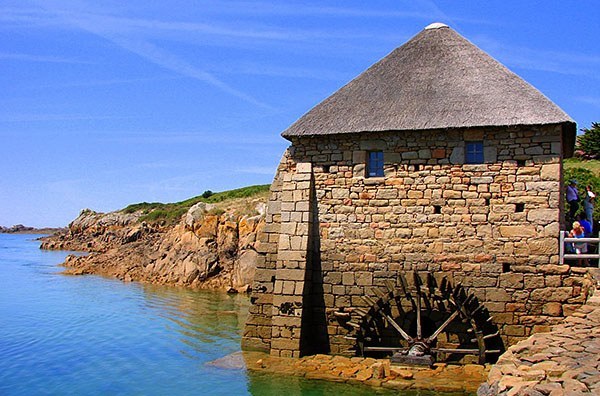 If you're looking to visit France this summer, or simply keen on a cycling holiday, make the destination Brittany. Not only is Brittany easy to get to from England, but it's also a lovely destination and perfect for cycling being both relatively flat and fairly rural. That means car traffic is light and the landscape relaxing to glide through on your touring bike.
Where to go in Brittany
While there are literally hundreds of destinations in Brittany, or Bretagne in French, as can be seen on the Brittany Tourism website, I've picked out a few that are truly outstanding:
Begin in St Malo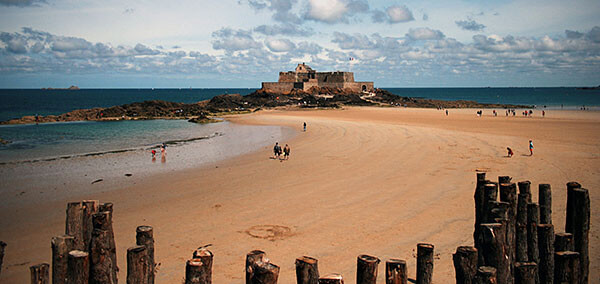 St Malo, on the coast and a popular ferry landing destination, is a historic city founded in the 12th century. Since then, this prosperous sea town has been a center for trade and tourism until today. Well, most of the tourism in the period after WWII, but still. If you're a history buff, this also makes a good starting point for seeing the Normandy beaches, located to the east.
The city is full of gardens, such as the rioutous  explosion of flora that is Parc Botanique de Haute Bretagne. If you're looking to learn about seafaring history in the region, visit the Musée du Long-Cours Cap-Hornier, in the Solidor Tower. Or maybe the Musée de la Paysannerie (Museum of Farm Life) is more attractive as you'll soon head out on your bike into the rural landscape of Brittany.
To learn more about the attractions in St Malo, visit the official tourism website for the city.
Cycle east for Mont Saint-Michel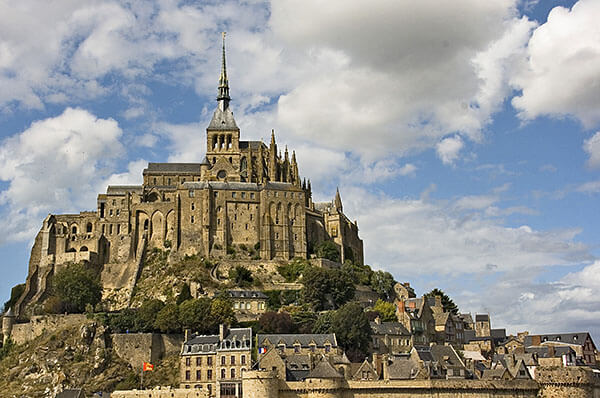 Only 50 kilometers east of St Malo sits the imposing Mont Saint-Michel, off a spur of land a kilometer long. This UNESCO World Heritage Site is nowadays only home to 44 people, but is one of France's most recognizable destinations.
With a history beginning in the sixth century, the rocky island has held fortifications and since the 8th century has also been a place of religious interest. It was then that the Archangel Michael appeared to the local bishop and a monastery was established.
Learn more about Mont Saint-Michel at the official website.
Southwest towards Phare d'Eckmühl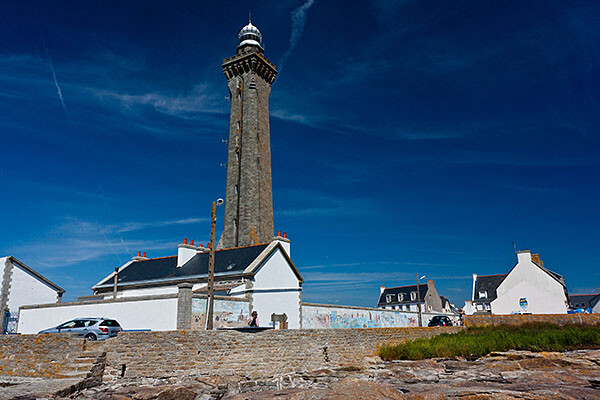 The more rugged part of the Brittany coastline is home to Phare d'Eckmühl, and the The 'grisly rokkes blake' of the Penmarc'h peninsula of Chaucer's Canterbury Tales. Many ships have savagely been sunk on these rocks battered by strong Atlantic waves. Today, three large lighthouses illuminating the coast of Finistere, the Three Musketeers as they're known, welcome visitors with great views and good camping facilities.
On the way here, you'd come through some of France's most beautiful farmland on quiet country roads. You'll also come across the town of Bécherel. This small town is famous for its literary festival, focussed on French literature. And of course, just like in the famous town of Hay-on-Wye and its festival, there are bookshops galore. Though if bike touring, a trip to the post office to mail them home is probably wise.
Swing up the coast back to St Malo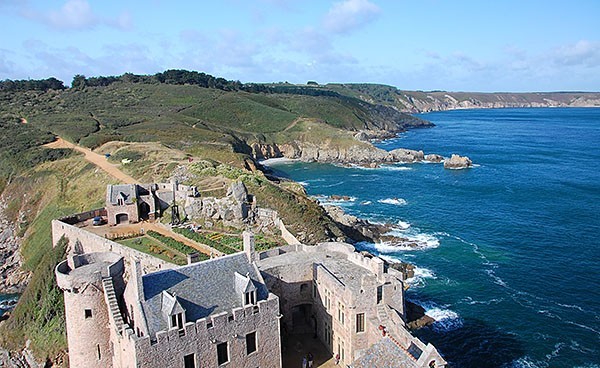 You've done the inland stretch with its picturesque landscapes, now the water beckons and a rugged working coastline will be your companion for the rest of the tour.
On this part, you'll come across the historical strategic site of Pointe St-Mathieu and Le Conquet, which is also the setting off point for a side trip to the island of Ushant (Oussant in French). This island is France's most westernly point, and a popular destination for its history and heritage as a dangerous waypoint for seafarers and as the entry to the English Channel.
Kerlouan on the northern coast is famed for the otherworldly look lent by large stone boulders dotted around the landscape. The show village of Ménéham lies nestled into the great chunks of rock, like some fairytale hamlet.
And more!
There's so much more to see in this part of France, that this article can only scratch the surface. Visit the tourism sites and build up an itinerary allowing for about 40 miles of travel each day.
Bike touring tips
First of all, make sure you're comfortable spending time on your bike and that it fits well. Else you'll end up with a ruined holiday from discomfort or having to abandon it after a few days.
If you don't want to plan your trip yourself, there are a number of companies that will help you arrange both logistics and itinerary. Here's a video from one great company, DuVine, that highlights how much they enjoy the region:
Also make sure you have all the equipment you'll need, we have a bike touring packing list on the site which can help.
And very importantly, allow for time off the bike. Doing about 40 miles per day is a leisurely pace and will allow you to take in your surroundings and keep your fitness levels up for the whole trip.
Getting to Brittany
If you're starting off in England, there are a few good options to get to Brittany. Flying, while usually the default, isn't a good option as the most frequented airports would be around Paris, in Orly and at Charles de Gaulle. Not only is it hard to bring both a bike and panniers on a plane, but you'd then need to take the train to Rennes, St Malo, or Saint-Brieuc to begin your tour.
The Eurostar has the same problem, especially now that the bike travel options have changed.
Your best choice would be to travel on a ferry over the channel, for example with Brittany Ferries who has the best choice of routes to northern France and Brittany. For most, the route from Portsmouth to St Malo is likely the best choice, though there is a good selection of Brittany Ferries routes to France.
Advertisements:



Photos by Roar Pettersen (1), annso t (2), pixiepic's (3), T.J. Morton (4), erica frank (5), all on flickr
You should follow me on twitter here.