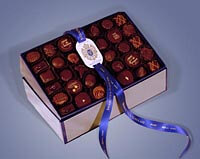 Here's a tip for an extravagant New York treat: Buy your girlfriend chocolates from Debauve et Gallais on Madison Avenue.
The choccies from here are the preferred brand of the kings of France and have been around since 1800. So, it's probably good enough for your significant other!
Debauve et Gallais history
Sulpice Debauve, pharmacist of the King Louis XVI, opened in 1800 with his nephew, Mr. Gallais, a chocolate factory whose quickly rising fame made it the appointed supplier of the Kings Louis XVIII, Charles X and Louis-Philippe. Thus, for 200 years, we have been serving great men and famous names from all around the world. The original shop is at 30, Rue des Saints-Pères in Paris VII and was designed by the architects of Empress Joséphine. In 2000, for the 200th anniversary, Debauve et Gallais opened an e-shop.
The chocolate
The chocolate is divine, made with the best ingredients and packaged with care. It's also very very expensive and sold in shops with superior service. For a exclusive hit of cocoa goodness, give them a try.
The Madison Avenue, New York, store
You can get your supply of exclusive chocolates at:
20 East 69th Street, New York, NY 10021
Advertisements:



It's right between 5th and Madison Avenue, and you can call them on +1 212 734 8880. Their website is Debauve et Gallais.
You should follow me on twitter here.