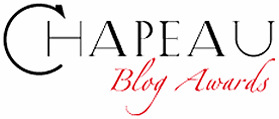 Eyeflare.com made it into the finals for best travel blog in the Chapeau Blog Awards this year. We're up against the very good Viator blog, which should make for a good sprint to the finish.
Advertisements:



Definitely a fight between David and Goliath for this finals as Viator is a well-established local tours aggregator and eyeflare.com is, well, me mostly. So, for anyone that loves eyeflare.com and has a thing for the underdog, please vote for us when the voting opens on 14 April 2009!
To check out the other categories, look at the finalists' page and visit the superb blogs that have reached the finals this year.
Then, to vote eyeflare.com the "Most Brilliant Blog" of 2009, register to vote now. You'll get a reminder when the voting starts.
Remember, your vote is another pebble for our sling!
You should follow me on twitter here.