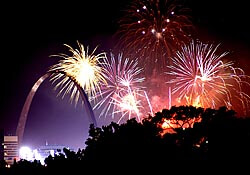 With President Obama in the Oval Office and the previously very frosty foreign relations, and America's standing in the world, thawing up, it's time to celebrate for real this 4th of July! Celebrating Independence Day means fireworks and lots of them. Here are my best choices for a huge display:
Chicago
Oddly, Chicago's official fireworks display takes place on 3 July over Michigan Lake by Grant Park. However, it's one killer fireworks show and worth attending. On the 4th, you'll be able to find plenty more shows like the one at Navy Pier. During the weekend, Taste of Chicago is also taking place, so you can really enjoy the city and its beaches to its fullest.
Los Angeles
Advertisements:



At the L.A. Coliseum, there's a fireworks display being put on for free just after sunset. It's really kid friendly as well, so would be a nice end to a Saturday with the kids in Santa Monica. For some entertainment, you can also visit the Mr. and Mrs. Muscle Beach competition in Venice Beach on 4th July, when they crown the man and woman with the bulgiest muscles on the beach.
New York
There's a massive fireworks display over New York's Hudson River on every Independence Day. This year the mood promises to be more exuberant than ever. For the best views of the fireworks look at the Macy's site.
San Francisco
If you're already enjoying a trip to San Francisco with its quirky neighborhoods, iconic bridges, and vast waterfronts, take in the 4th of July fireworks that take place over the Bay at Pier 39 from 1pm to 9.30pm. There's also live music during the event and one of the sponsors is an ice cream company, just in case.
Washington, D.C.
Biggest show of them all? Maybe or maybe not, but the setting certainly is difficult to beat. Chances are you won't spot Obama in the crowd, but there's a concert at the U.S. Capitol followed by an Independence Day fireworks display at the National Mall.
Are you going to be elsewhere for 4th July this year? Share your tips in the comments below.
You should follow me on twitter here.