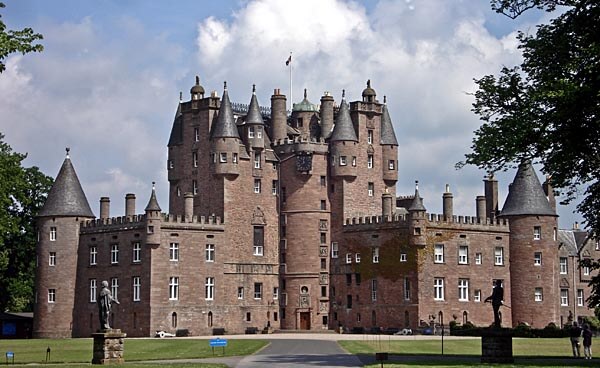 Glamis Castle is located next to the village of Glamis in Angus, Scotland. The Castle and its grounds are included in the Inventory of Gardens and Designed Landscapes in Scotland, and is a category A listed building, which means it is of national or international importance because of his historic or architectural style or building type.
The castle is the home of Earl and Countess of Strathmore and Kinghorn. It is open to the public for tours. There is a charge for the tour and if you attend any the castles special events the charge is based on the event.
The castle has a small chapel that is still used by the family for family events. It seats 46 people but as the tour guide will tell you there is always one seat left empty for "The Grey Lady". "The Grey Lady" is supposedly a ghost that inhabits the castle. She is thought to be Janet Douglas, Lady Glamis. The chapel is located in the small north east wing.
The courtyard is in the baroque style with sculptures and vista. In the front of the castle there are "avenues of trees''. The east wing sports a billiard room.
The walls of the castle are 3 feet 3 inches thick and the exterior has ivy growing on it and is illuminated at night.
The towers in the front of the castle measure 23 feet in diameter and are about 13 feet tall and the each one has a modern parpet.
The clock tower houses the castle's archives and holds a range of historic material about the castle, the Bowes and Lyon families.
Plan your visit around some of the activities at Glamis Castle such as the Macbeth Outdoor Picnic day in August where you can see a performance of Macbeth. In late July visit the Scotland's Countryside Festival which is said to be fantastic.
The first half of June sees the one-day Strathmore Highland games if the front of the castle.
Advertisements:



Easter at Glamis is celebrated at Glamis Castle and there is storytelling, a puppet theater, Easter egg hunt and other family fun each year.
Glamis castle will be a fun and educational day tripsfor the whole family.
Angus Castle address and hours
Angus Castle
Angus
Scotland
DD8 1RJ
The nearest larger town is Dundee, Scotland, which has a range of accommodation available.
Open between 31 March and 31 December: 10am - 6pm March - October (last admission 4.30pm), 10.30am - 4.30pm November - December (last admission 3.00pm)
Photo by David Basanta on flickr
You should follow me on twitter here.