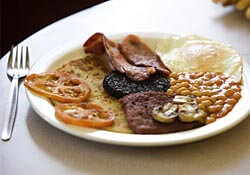 The first and most important meal of the day, breakfast becomes even more important when you're traveling. For some fantastic breakfast food, visit these two London cafes for a treat.
The Walpole, Ealing, West London
Removed from the common 'greasy spoon' but also not a restaurant, The Walpole is the best of both. At The Walpole, you'll find brown backing paper on the tables, table service, a hectic open kitchen, and husband-and-wife team Louis and Wendy Loizia offering tasty home-cooked foods. With baked ham and eggs, meaty pork sausages from the Smithfield Meat Market, and even genuing Irish black pudding, this is breakfast heaven.
Advertisements:



The Walpole is a favorite with locals too, drawn here by perfectly cooked food and some of the best bubble n' squeak around. Full breakfasts with tea or coffee costs £5.95 or less. Menu items start at a low £1.35. Breakfast served 7am-2.30pm, 8am Saturdays.
The Walpole contact details
35 St. Mary's Road
Ealing
London
W5 5RG
Phone: +44 (0)20 8567 7918
The Providores and Tapa Room, Marylebone, London
A fusion restaurant is an unlikely choice for a breakfast, but The Providores' ground floor, the Tapa Room, serves up unusual breakfast fare. Here you'll encounter breakfast porridge of brown rice, with apple, maple syrup, miso soup and a tamarillo compote. Or, poached eggs Turkish style served with yogurt and chilli butter. Either is very good and around £6.
If you're looking for more traditional breakfast, there are various fried breakfasts from £8. A cheaper option would be toasted sour dough bread with Vegemite, manuka honey, or artisan jam for less than £3. Breakfast served 9am-11.30am, weekends 10.00am-3pm.
Here, if you come around later in the day, you'll also find such intriguing meals as Thai basil remoulade with Cape gooseberry, coconut lime dressing and crispy karengo, or roast Suffolk Cross lamb chump on roast sweet potato and sambal bajak green beans with boquerone, red pepper, coriander, and lime salad.
The Providores and Tapa Room contact details
109 Marylebone High Street
London
W1U 4RX
Phone: +44 (0)20 7935 6175
Website: theprovidores.co.uk
You should follow me on twitter here.