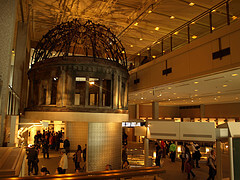 A visit to the Hiroshima Peace Memorial Museum will surely be a sobering experienced for anyone who visits it. On August 6, 1945 an atomic bomb was dropped on Hiroshima. Over 70,000 people were killed and another 70,000 later died from the radiation.
In 1955 The Hiroshima Peace Memorial Museum was created. Located in Hiroshima, with the Hiroshima Peace Park surrounding it, the purpose of the museum is to educate people about the reality of the atomic bomb that and its aftermath with hopes of abolishing all nuclear weapons and fostering peace in the world.
On display are photographs and personal belongings of victims of the blast, samples of different materials, such as wood, stone and glass, that were affected by the heat and radiation, and exhibits that focus on how radiation effects human health in the long term.
In a newer section of the museum is a model of the city showing the damage caused by the bomb, and a watch that was stopped the instant the blast struck. There are also exhibits concerning the pre-bomb history of Hiroshima, the technical aspects of the bomb itself and the decision that was made by the U.S. government to deploy it.
While visiting the Hiroshima Peace Memorial Museum is not a light-hearted outing, it can be a moving and worthwhile experience.
Hiroshima Peace Memorial Museum address and hours
Hiroshima Peace Memorial Museum
Advertisements:



Photo by JaviC on flickr
You should follow me on twitter here.