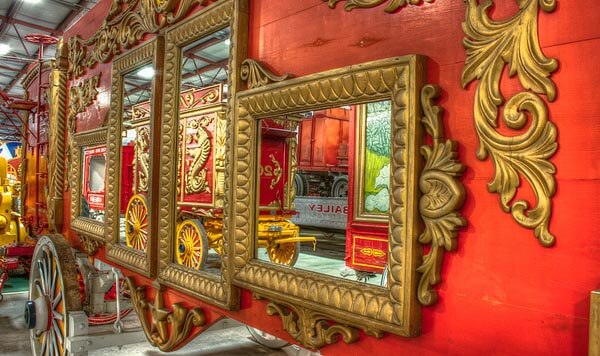 Circus World Museum in Baraboo, Wisconsin is a fun place for the kid in all of us no matter how old you are. Baraboo is about 30 miles north of Madison, Wisconsin.
Circus World is located on the original Ringling Brothers Circus Winter Quarters and is now a National Historic Landmark in Baraboo. It is a fascinating adventure back in time. There are more than 200 old time circus wagons on display. These brightly colored ornately decorated wagons are from a time long gone by in an age of semi-trailers. Walk through the barns and enjoy each and every one.
Attend a live circus performance with lions, elephants, high wire acts, dog acts, equestrian acts with a beautiful lady on horseback, magic acts and clowns in an actual circus tent called the Hippodrome. It is billed s the "Best of the Big Top" with circus acts from around the world. The kids can get into the act by joining the interactive circus where they can create a circus performance of their own.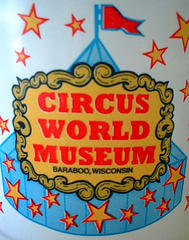 During the perfuming season you can also visit Ringlingville. The Ringling Brothers Circus which was started by five brothers in Baraboo in 1884. Tour their building that is standing along the Baraboo River dating back to 1897. It is the largest surviving group of original circus structures in North America. You can also see what remains of a footbridge that employees took across the river. In 1907 Ringlings purchased the Barnum & Bailey show and added their name to the Ringlings name.
There are restaurants on the grounds and like any good tourist attraction there is a general store to buy you souvenirs at. Group tours can be arranged as well as school or scout field trips. So this summer when you visit Wisconsin take a ride to Baraboo and walk back in time.
Circus World Museum address and hours
Advertisements:



Circus World Museum
550 Water Street  
Baraboo, WI 53913
The Museum's performance season is mid May until Labor day from 9 AM to 6 PM. In winter the museum is open from January until mid May from 10 AM to 4 PM. Admission is charged but children and senior are at a discounted rate. The museum is handicap accessible.
Photos by big t 2000 (Tony Heussner) (1) and kathleenie (2) on flickr
You should follow me on twitter here.