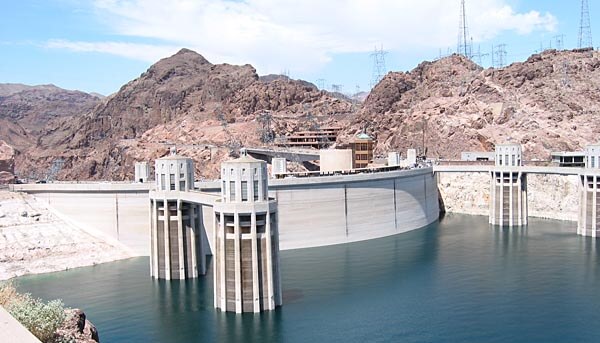 When you take your next trip to Las Vegas, take some time and leave the "one armed bandits" to take a tour of Hoover Dam. It is located on Lake Mead, about 30 miles from Las Vegas but well worth the trip ito the Lake Mead recreation area.
Hoover Dam is an engineering marvel; in fact it is considered one of the Seven Modern Engineering Wonders and is designated as a National Historic Landmark. The construction of the dam started in 1935 between the vertical walls of Black Cannon. It is a huge, curving wall of concrete 660 feet thick at the base and 726 feet high.
While the dam was being built there was some controversy over the name. It was known as Boulder Dam or Boulder Canyon Dam but when Secretary Wilber spoke at the ceremony starting the building of the railway between Las Vegas and the Dam sight he named it "Hoover Dam" noting a tradition of naming dams after Presidents.
Your tour of Hoover Dam starts at the visitor's center which is operated and owned by the Bureau of Reclamation. You can tour either the power plant for $11 or the Dam itself for $30 or do both. During the summer the lines for the tour are long so arrive early in the day.
The tour of the dam will take you by elevator to the base and explain everything you see. It is an awesome site to stand at the base of the dam and look up. You can hear the "roar" of the electrical turbines that produce power for a large area of Nevada, Arizona and California.
Advertisements:



Visiting the Dam is not only excited but a great learning experience and a chance to see an amazing treasure of the USA.
The Hoover Dam location and hours
The Hoover Dam
It is located on Route 93 about 12 miles east of Boulder City, Nevada
Visitor Center: Open 9:00 a.m. – Close 5:00 p.m.
Photo by robbyb on flickr
You should follow me on twitter here.