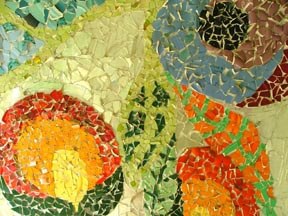 If you love taking road trips and want to explore the Americana offered in Michigan, you will want to visit the John Pratt Mosaic House, located in Midland, a little west of the town, on M-20. Midland is located about 19 miles to the west of Bay City, Michigan, and is an easy road trip. The surface of the house is covered extensively with a mosaic design of bottle caps, broken glass, pottery, mirrors and more. Although the house is abandoned at present, it is well worth the trip to see this fantastic piece of art and the love that went into creating it.
Presently operated by the Spirit 360 Center in Midland, tours are also offered that include history and the chance to make your own mosaic. After viewing the house and the folk art that covers all four walls, one will be inspired to try their hand a mosaic using a mix of objects. Sunflower forms, decoration and flowers, as well as a flowerpot design are all done using bits and pieces of glass, ceramic, nuts or bottle caps. The John Pratt Mosaic House is a worth trip to see how art and objects mix to form a new and unique piece of Americana.
John Pratt Mosaic House location and hours
John Pratt Mosaic House
102 East Isabella Road
Midland, MI 48640
Advertisements:



Group tours of the John Pratt Mosaic House are available. Fee per person: $10.00 for groups of 5 - 24. For groups of 25+, fee is $8.00 per person. For an additional $7.00 per person, a mosaic craft project is included in the tour. For more details about the tour, please call 989/837-1885.
You should follow me on twitter here.