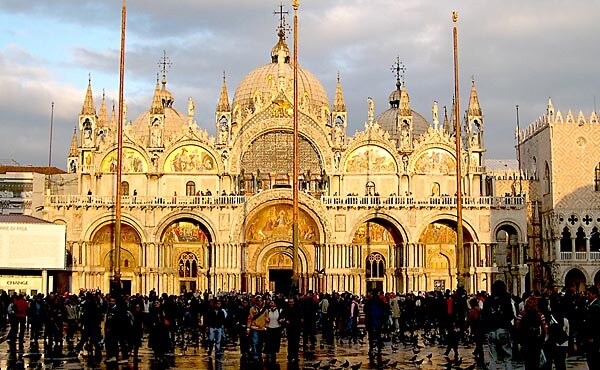 No trip to Venice would be complete without an afternoon spent at the splendid Basilica of Saint Mark. For more than a millennia, the building known as Chiesa d'Oro "Church of Gold" has been one of the most recognizable sights on the Venetian landscape.
Plan on spending some time in the Piazza San Marco, where you can take in the opulence of the church building itself, with its many spires, portals, columns, and exterior decorations. The core of the building was consecrated in 1094, but so many later additions have been made to both interior and exterior that the entire history of Italian architecture can be read in its facades. Take special note of the famous Horses of Saint Mark. The ones adorning the church's façade are replicas, but you can see the original Greek statues (brought back to Venice as booty after the sacking of Constaninople in the fourth Crucade) for a small fee inside the building.
Entering the narthex, you'll be struck by the first of countless mosaics decorating the walls and ceiling of Saint Mark's. Here are stories taken from the Old Testament, done in the characteristic gold gilt that adorns much of the interior.
Advertisements:



The shine of gold mosaics is the first thing you'll see when you enter the church itself. Shaped like a Greek cross, it is immense and awe-inspiring, from the tessellated marble floor to the 8,000 square meters of mosaics covering the archways and ceiling. The altarpiece echoes the theme: called the Pala d'Oro (Golden Pall), it is a brilliant example of Byzantine craftsmanship.
St Mark's Basilica location and hours
Basilica of Saint Mark
Piazza San Marco
Venice
Italy
The Basilica is generally open from 9:45 a.m. to 5:00 p.m., and from 2:00-4:00 p.m. on Sundays and holidays. Guided tours leave every day from April through October at 11:00 a.m. from the atrium next to the center doorway. The Basilica's excellent website can answer many of your questions before you visit.
Photo by Turinboy on flickr
You should follow me on twitter here.