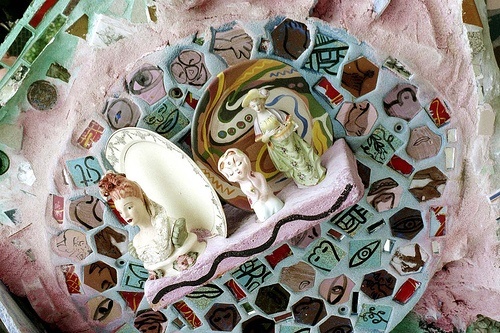 A visit to the Isaiah Zagar's Magic Gardens, in South Street, Philadelphia will truly be a totally different experience. This site preserves the artworks of the famous mosaic mural artist, Isaiah Zagar. It has a fully mosaic-decorated indoor gallery and the outdoor has large labyrinthine mosaic sculptures. Intricate designs and texts are embedded on the walls. The mosaic murals in the Magic Gardens and the nearby mosaics are created using bottles, hand made tiles, ceramics, bicycle spokes, mirrors of different sizes and shapes, glass pieces and other debris of abandoned warehouses. The murals depict folk art, images of Zagar's family members as well as contemporary events.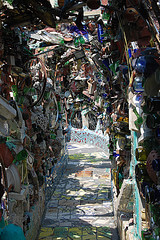 Various activities and workshops have been designed to suite individuals and families. You can also have a Question and Answer session with Isaiah Zagar on his work. Every third Sunday of the month, tours are organized for the blind to touch and explore the mosaic-covered walls and sculptures with the help of a trained interpreter. A folk art store named Eye's Gallery, started by Isaiah and his wife Julie, at 402, South Street which houses textiles, clothing, furniture and jewelry from different parts of the world is also worth a visit.
Isaiah Zagar's Magic Gardens address and hours
Philadelphia's Magic Gardens
1020 South Street
Philadelphia, PA 19147
Phone: +1 215 733 0390
Winter Hours (November-March)
Sunday - Thursday: 11:00 AM - 5:00 PM
Friday and Saturday: 11:00 AM - 8:00 PM
Summer Hours (April-October)
Sunday - Thursday: 11:00 AM - 6:00 PM
Friday and Saturday: 11:00 AM - 8:00 PM
Holiday Hours
New Years Day: 12:00 NOON - 8:00 PM
Thanksgiving: Closed
Christmas Eve: Closed
Christmas Day: Closed
New Years Eve: 11:00 AM - 5:00 PM
Adult admission is $5, a guided tour is $10 per adult.
Advertisements:



Photos by Katie Tegtmeyer (1), and pchgorman (2) on flickr
You should follow me on twitter here.