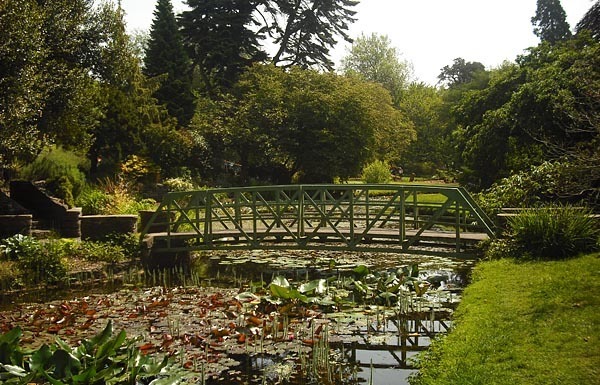 The National Botanical Gardens of Ireland came into existence in 1795 on 19.5 hectares of the lands of Glasnevin with funds granted by the Irish Parliament to the Dublin Society. The administration of the Botanical Gardens was taken up by the Government in1878.The primary purpose of the Gardens was to develop a scientific approach to agriculture and to demonstrate the use of plants for food, medicine and in the preparation of dyes. It also supported botanical studies and the cultivation of plants that were interesting or beautiful. However, the focus of the Gardens soon shifted to horticulture since a great variety of plants was collected from all over the world. Tropical plants which began to arrive in large numbers required special conditions to grow them.
A curvilinear glass house was designed and built by Richard Turner, a highly reputed Dublin ironmonger, when David Moore was the Curator. This beautiful glasshouse was restored in time to celebrate the bicentenary of Gardens in 1995. A new herbarium cum library was added in 1997. Since then other significant additions like lecture rooms for the Teagasc course in Amenity Horticulture, a visitors centre, additional rooms for study and research have been added. In addition to the magnificent curvilinear glass house, there is a large palm house, an alpine house, and glass houses for ferns, tropical water plants, and succulents. There are many plants of special interest like the weeping Atlantic cedar, Chusan palms and native strawberry trees. Anna O'Leary's portraits of notable scientists and the head of the famous Giant Irish Deer are other attractions. The arboretum, the rock garden and seasonal display of plants, like the Victorian carpet bedding are very popular with visitors.
At present the activities of the garden covers a wide range including conservation, education, research, demonstration and recreation. The National Botanical Gardens is a place where recreation and education go hand in hand, making a visit to the Gardens an enjoyable experience. Free guided tours are organized every Sunday. Tours for groups can also be arranged on request. A calendar of events including lectures and demonstrations are regularly organized.
National Botanical Gardens address and hours
National Botanical Gardens
Glasnevin, Dublin 9
Phone: +353 1 804 0300
Advertisements:



The National Botanic Gardens lie just 3.5 kilometers north of Dublin city center. there are three bus services that will get you to the Gardens, information for these, and driving routes are shown below.
Monday to Sunday, 9am to 6pm in summer, and 9am to 4:30pm on the same days in winter.
Free admission.
Photo by Laura_morgan on flickr
You should follow me on twitter here.