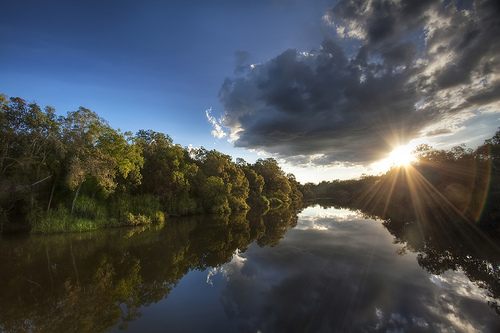 Amidst the rugged nothingness that defines much of Australia can be found stunning pockets of pure natural beauty, accented by amazing rock formations and complemented by what is said to be the most ancient culture on this planet. One of these pockets is Kakadu National Park, a Unesco Natural Heritage site selected not only for its natural goodness but also for its deep rooted culture. Aboriginal peoples have lived in and around the region for an incredible 40,000 years, and still jointly manage the park together with the Australian state government.
Famous for three world-class examples of prehistoric art, the Aboriginal rock paintings at Ubirr, Nourlangie and Nanguluwur are highly recommended. Beautiful Jimjim falls opens into the vast wetlands, estuaries, basins, and billabongs, which are crisscrossed by walking/hiking trails and overflowing with flora and fauna. Sixty types of mammals, almost 300 species of birds, numerous unique frog species and even two (gulp) varieties of crocodile call the park home. The equatorial climate has encouraged more than 1700 species of plants to grow here.
Advertisements:



In Australia, distances are large, and this northerly park sits fairly close to Darwin, in an Australian sort of way. Darwin itself is 4,000 km (2350 mi) from well-known Sydney, so a flight is best. A 'short' three hour drive out of town gets you to Kakadu National Park. Although the area has a good flow of tourists, it is always a good idea in Australia to refuel (and re-water) whenever possible. There's a good selection of camping sites strategically sprinkled over the region; the more plush have showers and toilets available.
Are you ready for an adventure? Kakadu National Park is well worth it.
Photo by WanderingtheWorld on flickr
You should follow me on twitter here.