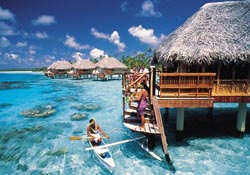 While in Paris recently, I ran into a representative of Tahiti travel specialist easyTahiti.com and discussed travel agencies over a couple of drinks. I thought I'd share some of what we spoke about, as well as some Tahiti recommendations from easyTahiti.
The upsides of a local travel specialist are precisely the reverse of the benefits of using a global travel agency or consolidator.
Advantages of local travel agencies
There's no such thing as local knowledge to help you figure out the best daytrips, hotels, hidden beaches, or that cozy romantic restaurant you want to take your partner to.
Another advantage is the agency's ability to build long term relationships with local businesses, which can result in better deals for their clients. It's almost certainly a guarantee of better service, since that relationship is more important than any gain to be had by delivering poor services to you.
Finally, there's that personal touch. Calling up, or emailing, a named person who's interested in getting you the perfect itinerary is a very luxurious experience. That same person will be available once at your destination, to help you with questions or any further bookings you'd like to make at the last minute.
There's also a comfort level here for many travelers, as that person will help guide you through the booking process and weighing options available to you. This can, and very often do according to easyTahiti's clients, result in a better overall travel experience and more vivid memories once back home.
Advertisements:



And those memories are the biggest reason to travel, after all.
Where global agencies take the lead
There's nothing like the reach and impact of a giant such as Expedia to pull together the most competitive deals. The cheapest flights, most discounted hotel rooms, or widest selection of travel packages around the world are available by a click of the button. If money-saving is your game, and you're comfortable sorting your own planning, then these companies can be a great help.
For an experienced, do-it-yourself type of traveler, going online and hunting down the right deal can be a fun experience.
Which type of agency is right for you?
I believe that if you're happy to sort out your own planning to the smallest detail, and finding deals gives you a buzz, then head to the Expedia and Orbitz of this world.
However, if you'd rather see travel as a relaxing experience, want to explore the best a location has to offer, and don't need to consider every cent spent, then the local agency option is for you.
Tips for Tahiti and her islands
Tahiti is part of the French Polynesia, and the other islands in the Society Archipelago are equally renowned Bora Bora, and more unknown Moorea, Huahine, Raiatea, Tahaa, and Maupiti. Each of these islands would make a great destination in itself, and there's of course options to create an island-hopping itinerary while visiting this part of the world.
There are four more archipelagos in French Polynesia, so if you have a few months on your hands, there's plenty of paradise islands to relax on.
However, the main destinations are Tahiti and Bora Bora, and if this is your first visit, head to either one of these.
Personally, I'm most enchanted with Bora Bora, which has a stunning lagoon to swim in and wonderful rustic stilt bungalows to rent. That is, if you're not afraid of falling in after a drink at night... If you are, maybe a Bora Bora hotel is more to your taste.
If you're looking to arrange your travel to Tahiti or Bora Bora holidays and vacation, then easyTahiti recommends trying to get a seat on Air Tahiti. The local airline has the benefit of providing well-priced combination tickets for continuing to other islands in French Polynesia. That's on top of being one of the world's most well regarded airlines.
While in Tahiti or Bora Bora, there are two things that should make your activity list:Learning to dive and going out in a fishing canoe.
Either of these water activities will give you a flavor of the place not available from dry land (obviously!) and will challenge your perceptions of a life well lived. Diving will show the astounding life under the sea water, including colorful coral reefs. The fishing will give you a connection with the local people and possibly provide dinner.
Head on over to easyTahiti.com for more tips on Tahiti and French Polynesia, and maybe ask them to put together a dream trip.
You should follow me on twitter here.