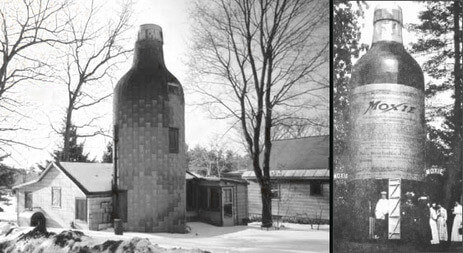 After you have seen all the usual tourist destinations in Maine and have eaten lobster rolls and blueberry pie till you are about to burst, consider one last stop. A trip off the beaten path to the Moxie Bottle House in Union, Maine will make your trip memorable. The center attraction of the museum is the 33' tall, 10' wide wooden Moxie soda bottle.
The Moxie bottle has a colorful past, including a number of incarnations. It was initially built in 1905 as a billboard of sorts for the Moxie Company. It was later used as a stand in which Moxie soda was sold at Pine Island Park in Manchester, Maine. Visitors could make their purchase, climb the bottle's internal ladder, and then slide down the outside slide. The stand was later sold and served as a nearby summer cottage. In 2000 the massive bottle was acquired and has subsequently been restored and placed on display in the Moxie Museum. The museum also includes several hundred pieces of Moxie memorabilia, known as "Moxiana". Included in the collection is everything from serving plates to homemade dolls made of bottle cans and caps.
Advertisements:



Moxie soda continues to be bottled in several states; ironically, Maine is not one. The soda, which was the first mass marketed of this kind, tastes like carbonated cough syrup, yet is loved by the locals. The governor of Maine has proclaimed Moxie as Maine's official soft drink. The museum proudly boasts a display of "Toxic Moxie" which is bootleg or fraud Moxie. No matter your age, a stop at the Moxie Bottle House is well worth the trip. The history of the bottle is sure to fascinate the young, the old, the history buff, and soda fanatic.
Union, Maine is located on Highway 17; 64 miles north of Portland or 49 miles south of Bangor. The Moxie Bottle House is housed at the Matthews Museum of Maine Heritage at the Fairgrounds in Union. However, the museum has limited hours (Saturday afternoons during July and August); at other times you should call first for an appointment. If visiting during the off season or as a part of a New England Fall Foliage adventure, dress warm as the building has no insulation and may be chilly.
Moxie Bottle House address and hours
Moxie Bottle House
Fairgrounds Lane
Union, ME 04862
Very limited hours, Saturday PM only in July & August. At any other time of year, do call ahead.
Union, Maine is located on Highway 17; 64 miles north of Portland or 49 miles south of Bangor.
You should follow me on twitter here.