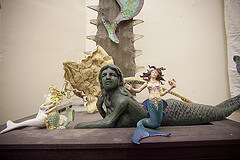 Have you ever wondered if the Abominable Snowman or "Nessie" the Loch Ness monster really exists? A good place to find out is at this fascinating museum in Portland, Maine. The museum is named for the science "Cryptozoology" which is the study of animals which have no proven evidence of existence. However, forget the technicalities; this attraction is packed with exhibits and specimens gathered over the last fifty years although the history goes way back. Contemplation, food for thought, anecdotal evidence and even real yeti hair are on offer here! Amongst the eclectic mix on display there are models of cryptids (the animals) and even fakes that have fooled the world down the years. Most interesting is the explorers study with a dusty, musty feel of authenticity which also contains one of the museum's first artefacts, a flag from a 1960's expedition.
The full size replicas are really works of art and feature "Bigfoot", a pterodactyl and the captured mermaid of Barnum circus fame. One special exhibit is the model of the coelacanth fish which is known as a living fossil as it was believed to be extinct and was rediscovered in 1938. The museum has aptly used this wonderful creature as its symbol and logo. The museum is easy to find and well-documented with the tourist office of Portland and has rest room facilities and a small gift shop. Photography is allowed but in keeping with other museums, the exhibits are not to be touched. Open all year round except when the proprietors are on special missions or showing their exhibits on television, this is not just a fun place to visit but is educational and truly interesting. Children will love it and adults will be intrigued by the evidence that has been gathered.
International Cryptozoology Museum address and hours
International Cryptozoology Museum
11 Avon Street
Portland, ME 04101
Open Mon 12:00 noon - 4:00pm, Weds-Sats open 11:00am – 4:30pm, Sundays open 12:00 noon – 3:30pm, closed most Mondays and Tuesdays
Advertisements:



Photo by Bryan Bruchman on flickr
You should follow me on twitter here.