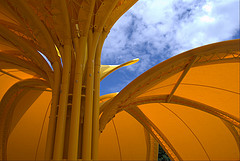 Open House London is an annual event that gives Londoners and visitors the opportunity to visit, for free, a huge range of architecturally interesting buildings that aren't normally open to the public. This year's event takes place on September 19-20 - here are my favorite properties to look out for and book tickets for ahead of time.
There will be hundreds of places to choose from over the weekend, with access to the vast majority of buildings on a turn-up-on-the day basis. But since some buildings have a limited capacity, pre-booking is vital for some of the sites. To book, visit www.openhouse.org.uk/london. Free copies of the Open House London program will be available from libraries in participating London boroughs.
Sites open on both days
Ed's Shed/Sunken House
A cube clad in a cedar rainscreen, stained dark brown - a single slot window at the front is all that indicates this is a house. The entire site was excavated to basement level in order to create the sunken foundation on which the house now sits. Hemp insulation improves the thermal performance of the structure while the solid timber frame provides a significantly reduced carbon footprint.
Architects: Adjaye Associates, 2007
Address: 75A De Beauvoir Road N1 4EL
London 2012 Olympic Park
One of the largest construction and engineering projects in Europe, the Olympic Park that is currently being created on a 2.5km sq site in the Lower Lee Valley will be at the heart of the 2012 Games. Afterwards the site is set to become one of the largest new urban parks in Europe for 150 years. Construction work is well underway on the 'big five' venues: the Olympic Stadium, the Velodrome, the Olympic Village and the International Broadcast Centre/Main Press Centre.
Address: The Score Complex, Oliver Road, Leyton E10 5JY
Open on Saturday 19 September only
Royal Botanic Gardens, Kew: Jodrell Laboratory
Housing reference collections, office and laboratories, the Laboratory fits in with the local environment - horizontal cedarboard cladding will mellow to similar colour of trunks of eucalyptus trees outside. Louvred exterior and computer-controlled windows to regulate heating/cooling. Visitors will be able to view all the laboratories on ground floor and the basement of Wolfson Wing.
Architects: Wilkinson Eyre Architects, 2006
Address: Main Gate, Kew Green, Royal Botanic Gardens, Kew TW9 3AB
Centre Point
It's claimed that the 34-storey, 121m Grade II-listed central London landmark was the first building in London to be erected without the use of scaffolding (the prefabricated precast-concrete H-shaped units were lifted into place by crane). Visitors will be able to see the reception area, CBI podium level, and the eighteenth, thirty-first, thirty-second and thirty-third floors. Iconic it may be, but it's not very pretty to look at.
Architects: Richard Seifert, 1967
Address: 103 New Oxford Street WC1A 1DU
The Glasshouse
Contemporary courtyard style house with a low profile of just 7m. The house is a linear arrangement of rooms accessed from the 40m long double-height gallery surrounded by established trees and shrubs which also creates a boundary wall enclosing the garden. On the Saturday of Open House weekend the ground floor and part of the first floor will be available to view.
Architects: Terry Farrell & Partners, 2004
Address: River Lane, Petersham TW10 7AG
Tower 42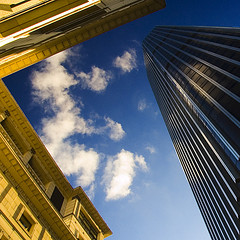 The City of London's tallest building, consisting of three hexagonal chevrons, at 601ft was the first to break previous restrictions on tall buildings in London. During a comprehensive refurbishment in 1995, a new glass and steel entrance hall was built on Old Broad Street and the external steel cladding was replaced. On Open House weekend visitors will be able to view the foyer and levels 24 and 42.
Architects: Richard Seifert & Partners/GMW Partnership/Fletcher Priest 1981/1995
Address: 25 Old Broad Street EC2N 1HQ
Highpoint
This 1933 Grade I-listed block of flats is a seminal piece of modernist architecture designed by Berthold Lubetkin and inspired by Le Corbusier's ideas. Intended as a new answer to the problems of high-density urban living – which had previously been solved by building out into the suburbs – it was intended as working-class housing but, being in Highgate, quickly became a very desirable middle-class address. The Open House guided tour covers the common parts, including recently restored foyers and the interiors of two flats which retain many original features such as cork floors, concertina windows and metal doors. Entry is by accompanied tour only.
Architects: Tecton & Lubetkin
Address:Highpoint, North Hill N6 4BA
Open on Sunday 20 September only
Maggie's Centre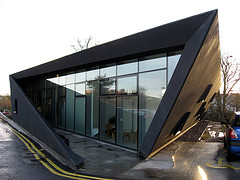 The idea behind Maggie's is that cancer patients need help with the psychological impact of their diagnosis as well as medical treatment for the physical side. A non-institutional 'open house', Maggie's is a flexible space designed to be welcoming, uplifting and thought-provoking. The raised roof allows natural light to enter the whole of the building. Partitions divide up the open structure, placing the kitchen at the heart of the building. Partitions divide up the open structure, placing the kitchen at the heart of the building. There are also gardens designed by Dan Pearson.
Architects: Rogers Stirk Harbour + Partners
Address: Maggie's Centre, Charing Cross Hospital, Fulham Palace Road, W6 8RF
Trellick Tower
Goldfinger's 31-storey 'Unité d'Habitation' in W10 was originally built as social housing but it's now one of London's more desirable addresses. Monumental in style, with its free-standing service tower and surreal boiler house, the Trellick Tower retains beautiful detailing and a rich use of materials. The lobby and two or three flats will be available to view.
Architects: Erno Goldfinger, 1972
Address: 5 Golborne Road W10 5UT
Shoreditch Prototype House
Advertisements:



Unique, award-winning, contemporary low energy house on brownfield site with striking glazed and planted facade hidden in the heart of Shoreditch, developed as a prototype for green urban terraced housing. Sustainable features include solar control facade with evergreen shading, lightweight steel, timber frame and solar thermal hot water system. Underneath the plants, this is a state-of-the-art green-living machine, developed as a prototype for eco-friendly urban terraced housing of the future.
Architects: Cox Bulleid Architects
Address: 4 Crooked Billet Yard (off Kingsland Road, opp Cottons Gardens) E2 8AF
You should follow me on twitter here.