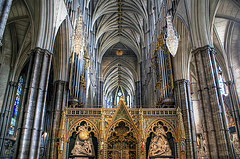 Summer in London is full of activities. Most expensive, but plenty for the perfect price of free which you can do. Yesterday and the day before, we presented 5 free things to do in London and 5 more free things to do in London. Today, we're presenting the final 5 free activities.
Walk along the Thames to see the city's top attractions
Go for a walk from Westminster Bridge along London's River Thames to London Bridge and you'll see a host of the city's top attractions without spending anything. This includes Big Ben, the Houses of Parliament, the London Eye, the Gherkin Building, St Paul's Cathedral and Tower Bridge.
Go to the recording of a TV Show
Just like in America, if you want to be in the audience of a TV show, be it a sitcom, game show or other, you can get tickets for free! All you have to do is visit TVrecordings.com or BBC.co.uk/tickets to see what's available.
Enjoy choir singing in Westminster Abbey
While visiting one of London's most famous attractions may cost £10.00 during the day, if you leave your visit until when 'Evensong' takes place every evening at 5.30pm you won't have to pay anything. Not only that, you'll be treated to the sounds of the Abbey's choir too.
See if up and coming comedians can put a smile on your face
While London is full of comedy clubs, many of these expect you to pay for the privilege of having your funny bone tickled. But there are some that don't. The Theatre Royal Stratford (Gerry Raffles Square, Stratford) has free comedy nights every Monday night, while on Wednesdays you get to choose between the Comedy Cafe (66 Rivington St) in The City, or 'Mirth Control' at The Lower Ground Bar (269 West End Lane) in Hampstead.
See London's most famous sights
Advertisements:



Don't forget that many of London's landmarks are free. This includes Piccadilly Circus, Trafalgar Square and Leicester Square, not to mention suburbs like Camden Town and Notting Hill.
You should follow me on twitter here.