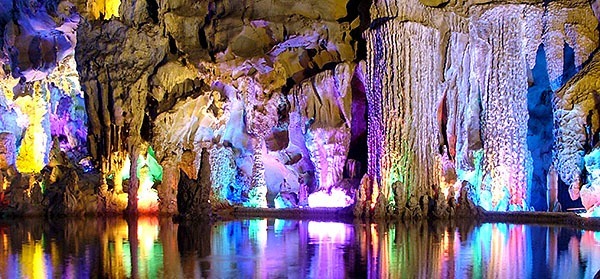 Prepare to gasp in awe when you visit the Reed Flute Cave in Guilin, China. The stalagmites, stalactites, and rock formations that cover every inch of the walls of this otherworldly enclosure will have you feeling like you've landed on Mars, rather than in a 240-meter-long cave in the heart of northern China.
Guided tours of the cave are available and recommended. You'll learn a little about the history of the fantastic formations, created over millions of years by dripping water which slowly forms the calcium carbonate deposits that make up the ever-lengthening spires. Colored lights have been artfully placed throughout to highlight the complexity of the rock, and it's easy to see why the site is often called "Nature's Art Palace." Your guide will explain the colorful names that have been given to various grottos and formations within the cave, such as Pines in the Snow, Dragon Pagoda, and Crystal Palace of the Dragon Kind.
Although you'll want to take photos all along the route, you'll find it difficult to capture the experience on film, and photos are discouraged except at certain points where the lighting has been enhanced to allow for photography. Be sure to look for the more than 70 ancient inscriptions on the walls, which date back, amazingly, to the late 700s A.D. "" just one indication of how long this superb cave has been attracting visitors.
Reed Flute Cave location and hours
The cave, which gets its name from the reeds growing outside it, is only five kilometers from downtown Guilin. The cave is open from 8:00 a.m. to 5:30 p.m., and you should allow about three hours for your visit.
Advertisements:



Photo by roychung1993 on flickr
You should follow me on twitter here.