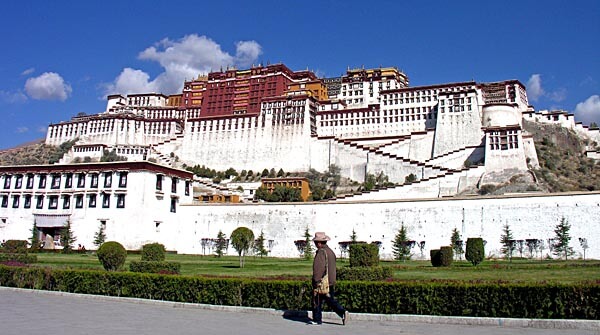 The Potala Palace in Tibet is one of those enduring images that comes to mind when you think of Lhasa. It is a huge structure that dominates the skyline and is only dwarfed by the surrounding mountains. No trip to Lhasa is complete without time to take in the palace, and given its size, you might want to schedule in a couple of visits. It's an amazing piece of architecture in itself but given its rich history, the fact that it is the home of Tibetan Buddhism and the treasures inside it has earned a reputation as one of the wonders of the modern world.
It started life as a meditation retreat and due to its location soon became an important part of Tibet's capital city. It has been added to over the years (the present incarnation of the palace dates from 1645) and has been the home of the Tibet Dalai Lamas for centuries. It has the look of a fortress about it (the bottom walls are a staggering 16 feet thick) and was designed to resist earthquakes but it has had to deal with much more turmoil than natural disasters, most recently the Chinese invasion and the escape of its spiritual leader. It's made up of several different areas each with its own highlights which are linked closely to the history of this beautiful country. It's a fascinating place, maze-like with the amount of rooms and you soon get lost in the story of the treasures on display.
Tombs and shrines abound (many of the past Dalai Lamas are buried and commemorated here) and the wall painting and different styles of decorating and amazing to behold. You feel very much as if you have stepped back in time and into a different world, and it is easy to forget where you are... until you step outside again and leave the peace and serenity of this retreat and hit modern day Lhasa. There are not too many old world spectacles like this left (it is listed by UNESCO) and you should check it out while you can. Prepare to be left breathless (both by the palace and the altitude.)
Potala Palace location and hours
Potala Palace
Situated on the Red Hill of central Lhasa
Advertisements:



Open daily during daylight hours
Photo by archer10 (Dennis) on flickr
You should follow me on twitter here.