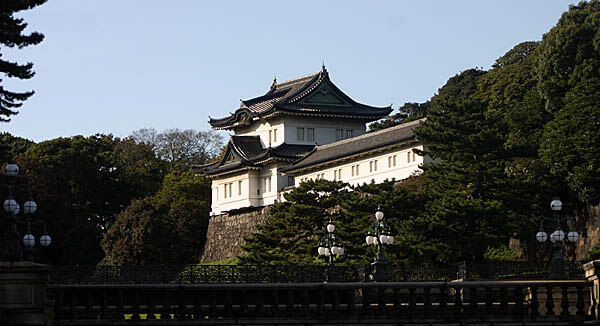 One of the main cultural highlights in Tokyo, the Japanese capital, is the Imperial Palace, located in Chiyoda area. Built on the site where once the ancient Edo castle proudly stood, the Imperial Palace contains more than just the main palace, but also the private residences that belong to the imperial family, a museum and important historical archives. The complete complex is made up out of seven distinct wings and many halls.
Several beautiful gardens are included in the Imperial Palace are, such as the Fukiage Garden, used as residential area for the imperial family, the East Garden (which has an area of 2.3 million square foot), which is also the location of the majority of administrative buildings, and the Ninomaru Garden, where each prefecture of Japan is represented by a symbolic tree (in total there are 260 trees to be found here). Besides these three garden, there are several outer gardens to the south and the Kitanomaru Park to the north, which is a public park where the Nippon Budokan Hall can be found, an arena where, among others, the Beatles and Kiss have performed.
So, if you're visiting Japan and want to immerse yourself in the historical grandeur and beautiful surroundings then the Imperial Palace can provide with exactly what you need, giving you plenty to do to fill several days.
Imperial Palace location and hours
Imperial Palace
Japan, 東京都千代田区千代田1-1
Advertisements:



The Palace is only open to visit by application and a granted appointment. The East Garden is however open to the public and you can view the outside of the Palace.
The Imperial Palace is a 10 minute walk from Tokyo Station.
Photo by HyperLemon on flickr
You should follow me on twitter here.