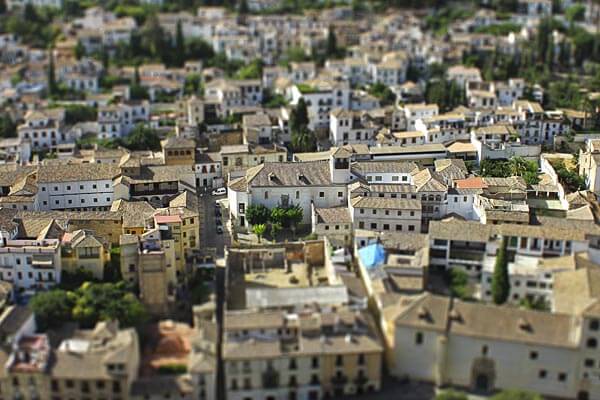 If you stroll up the winding streets of this medieval landmark built on a hill  in Granada, Spain, you will soon see why El Albayzin has earned its designation of World Heritage Site from UNESCO.  While the lower level of the city has been modernized, cobblestone streets in the upper area are not wide enough for cars, and still retain much of their medieval Moorish character, with open-air markets, street musicians and  the occasional square with lively outdoor cafes.  Along the way to the top of the hill you will see not only the old Arab architecture, but also structures built by the Christians who settled here after Spain retook Granada from the Moors in 1492. The two styles don't clash, but rather complement each other.
At the top of the hill is the Church of San Nicolas, built over the earliest known structure in Albayzin,  a fort constructed by the Roman governor in the 8th century and recently uncovered by archeological excavation. From the plaza surrounding this church you have a splendid view of the Alhambra, located on the hill on the other side of Granada.  Along the wall surrounding the plaza, you will find guides lecturing tourists, students chatting, visitors eating snacks from the cafe located there, and if you are lucky, flamenco guitarists and singers. Young couples find this plaza especially romantic at night, when they can see the lights illuminating the Alhambra.
Unlike the Alhambra, which was built by the emirs to impress and entertain their important visitors, El Albayzin was constructed for the working people, tradesmen and artisans.  Compared to the elaborately decorated artistic structures of the Alhambra, Albayzin is more functional, but still shows some of the workmanship put into its structures by both its Arabs and Christian builders. Many of its churches, including San Salvador, are built on the sites of the older mosques.
While you are in El Albayzin you may also want to visit the Archeological Museum of Granada, which contains artifacts from all the different civilizations – Carthaginians, Phoenicians, Romans, Arabs and Christians – that have contributed to this World Heritage Site.
Photo by gacabo on flickr
Advertisements:



You should follow me on twitter here.