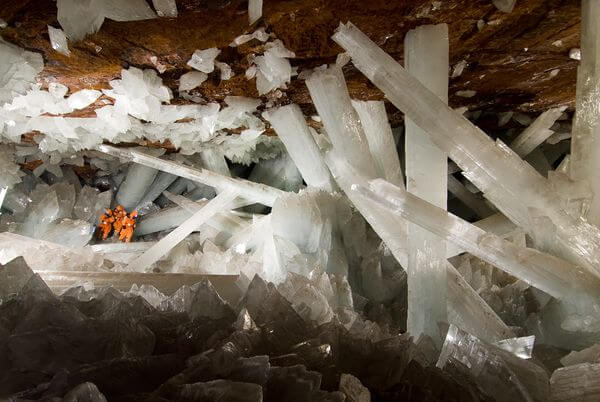 Perhaps you have seen stalagmites and stalactites in underground mines before, but you have certainly never seen anything like the selenite formations in the Crystal Cave of the Giants.  Located in the Naica mine in southern Chihuahua, Mexico, the Crystal Cave is home to the largest known crystals of their kind.  Discovered in 1794, the Naica mine was originally prized for precious metals; over time, it became renowned for the discovery of magnificent selenite crystal formations.  In the early 1900s, looters removed many crystals from a cavern known as the Cave of Swords.  
Advertisements:



The mine closed thereafter for a period of time. While drilling a new tunnel in the mine in April, 2000, brothers Juan and Pedro Sanchez came across the most remarkable columnar crystals known to man.  To help you understand the scale of the massive crystals:  in photographs, workers look like ants on a stalk of celery.  Upon this discovery, the tunnel was re-routed, and the crystal structures cordoned off, to preserve this natural treasure.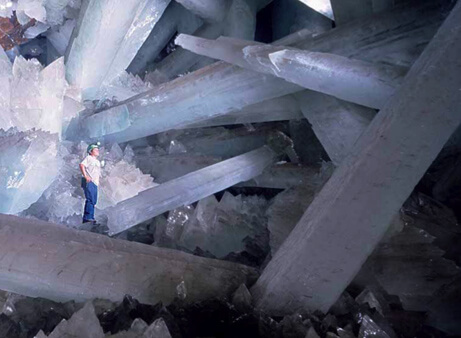 The environment of the Crystal Cave makes being in the cave for more than a few minutes at a time impossible.  Temperatures in excess of 150 degrees, with 100% humidity, 1,000 underground, make it a blazing sauna.  Helmets, gloves, and rubber boots are required to survive the extreme conditions.  
As it is a working mine, with treacherous conditions known to cause fainting, you should first see if the location is open to tourists.  Information on touring the mine is scarce. Some websites even suggest it may be impossible to tour the caves without connections to a worker in the mine, or a member of government.
Thus, unfortunately, you cannot necessarily expect to visit Mexico and see the Crystal Cave of the Giants.  
You should follow me on twitter here.