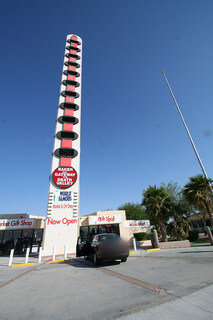 It is said "everyone talks about the weather but no one can do anything about it". Take a trip to Baker, California and you can see just how hot it is on the World's Largest Thermometer. Baker is located near Nevada's "Gateway to Death Valley" and 75 miles from Las Vegas. This particular site was chosen because it was along the main road through town and was visible from the interstate.
In 1991, a businessman, Will Herron paid to have this 134 foot tall thermometer built. The construction was done by a company who manufactures neon bulbs, and they used 33 tons of steel and 5,000 lamps to make this three-sided digital thermometer. The reason 134 feet was chosen as the height was to commemorate the highest recorded temperature in the US, in Death Valley in 1931 which was 134 degrees Fahrenheit.
Advertisements:



At one time strong winds broke the tall structure, smashing it into a gift shop that was under construction so it was eventually filled with concrete to prevent this from happening again.
The thermometer itself is lit at night and can be seen for miles around. So next time you're heading to Las Vegas or want to take a day trip away from the casinos head to Baker, California to see something you won't see anywhere else.
World's Largest Thermometer directions
World's Largest Thermometer
72155 Baker Blvd
Baker, CA 92364
Photo by Dave Malkoff on flickr
You should follow me on twitter here.