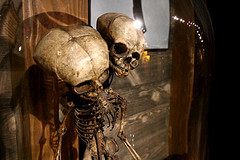 Ripley's Believe it or Not Museum in Myrtle Beach, South Carolina is a premier destination for any family looking to see exciting, eccentric exhibits. Named after the famous adventurer Robert Ripley, Ripley's has become known around the world for curating some of the world's oddest, most eccentric artifacts and memorabilia, including a real shrunken head, a life size statue of the world's tallest man or a 6 legged pig. Ripley's in Myrtle Beach also features a state of the art aquarium which will delight people of all ages. If that wasn't enough, Ripley's of Myrtle Beach offers even more attractions, including a haunted house, maze and moving theater. With all of these attractions, there is plenty to keep a family with diverse interests entertained.
If an affordable family event is what you are looking for, Ripley's will not disappoint. . If you are looking for a fun, informative vacation for your family, Ripley's of Myrtle Beach should fit the bill perfectly.
Ripley's Believe it or Not, Myrtle Beach address and hours
Ripley's Believe it or Not
901 North Ocean Boulevard
Myrtle Beach, SC 29577
Advertisements:



Daily 11am-8pm
At the museum, children under 5 enter for free, while child and adult admissions range in from $7.99 to $14.99. The aquarium is slightly pricier with adult prices of $21.99 and child prices of $10.99. Ripley's other attractions are priced similarly
Photo by phalinn on flickr
You should follow me on twitter here.