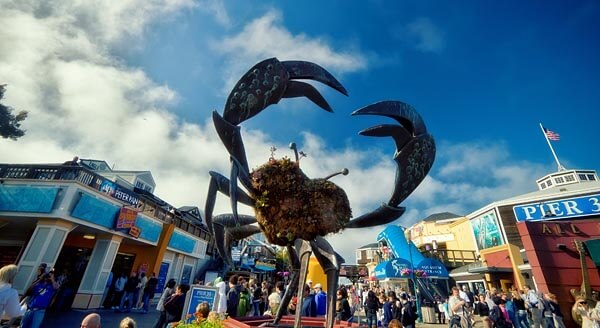 The Fisherman's Wharf area of San Francisco is a wonderful tourist attraction. Pier 39, Ghirardelli Square, Ripley's Believe it or Not Museum, and many restaurants are located in Fisherman's Wharf. Pier 39 has an arcade, an aquarium, docks where sea lions sit, and a carousel. You can see the Golden Gate Bridge from the Pier. Additionally, there are tours of Alcatraz that depart from Fisherman's Wharf. If you want to see Alcatraz, it is advisable to buy tickets in advance to avoid lines and ensure a spot.
There are many options for food in Fisherman's Wharf. You can buy freshly baked sourdough bread and fresh seafood. You can buy food from a cart and eat on a bench on the pier. You can also go to a chain restaurant such as the Rainforest Café. There are also many nice sit-down options that are only found in San Francisco, such as Alioto's Restaurant.
Advertisements:



There are many street performers throughout Fisherman's Wharf. One, known as the Bushman, is very famous. He hides behind a group of branches and jumps out when people walk by in order to frighten them! To get around Fisherman's Wharf, there are historic cable cars! There are usually long lines for the cable cars, though. Try not to drive to Fisherman's Wharf. Street parking can be hard to find and garages are expensive. Take heed when visiting Fisherman's Wharf. The crowds can be overwhelming and there are many touristy souvenir shops. Despite the crowds, Fisherman's Wharf is a must see for any visitor to San Francisco.
Fisherman's Wharf location
Fisherman's Wharf
Jefferson Street, Between Hyde and Powell Streets
San Francisco, CA 94133
Photo by Samantha Decker on flickr
You should follow me on twitter here.