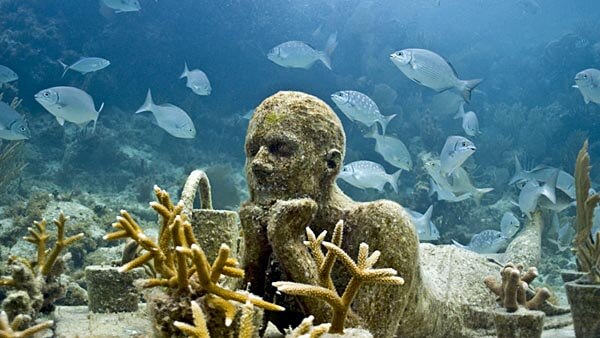 Cancun, Mexico has long been the destination for those seeking blue water, sunshine, and warm relief from the cold winter months. With a tropical climate and long expanses of white beaches, tourists from around the world come to this coral reef island annually to soak up some sun, and to spend some time in a historical spot that still has the remains of Mayan ruins.
Advertisements:



Now, tourists will have another reason to visit this beautiful area, when they visit a one of a kind museum that is completely submerged beneath the blue water. The Museo Subacuatico de Arte, a creation of Jason de Caires Taylor, consists of 400 life size concrete statues, actually cast from the likenesses of Cancun residents. Combined with concrete cars, and some furniture, this underwater village serves two purposes. Obviously, it is a favorite spot for tourists who want to view this outstanding, and unique art display, but it was also constructed to produce a coral reef system, which will in turn attract a variety of aquatic creatures to the National Marine Park.
Tourists can view this amazing underwater scene by snorkeling, diving, or through the bottom of glass bottom boats. This is just another reason to visit this beautiful island that has something for everyone to enjoy.

You should follow me on twitter here.