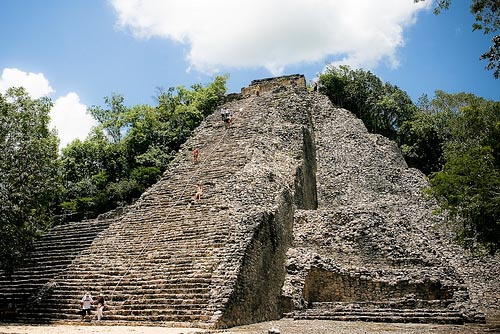 The Mayan ruins of Coba of Quintana Roo province is located about 2 hours from Playa del Carmen. The stone site was constructed over 2,000 years ago, and became a dominant Mayan city-state until its decline in 1,000 AD and the Spanish conquest of 1550. Recently excavated, this Mayan site is hidden inside a dense emerald green jungle.
You may have the rare chance to snap a photo of brilliant sapphire colored butterflies, playful jungle monkeys, and beautiful tropical flowers by the shade of the ceiba trees. The site is flanked by two sacbes, a gleaming stone road which the Mayans traveled at night, as well as cenotes, which are cave pools and two lakes, once used by the Mayans for water as well as sacrifice to Ah Puuc, the rain god.
The name Coba in Mayan means waters stirred by the wind, which attests to the abundance of water and one of the lakes bearing its name. Two large recently excavated ball courts are adorned with depictions of the warriors of this mighty contest, as well as the fate of the hapless winners! If you feel adventurous, climb 120 steps to the top of the 138 foot Mayan pyramid, Nohoch Mul, which means "the big mound." The height of this rivals the pyramid "El Castillo," sacred to the Venus god Kukulcan in nearby Chichen Itza.
A second smaller pyramid Templo de la Iglesia, offers a chance to view Lake Macanxoc. The site is also sacred to Kukulcan, as a symbol of a bee and a descending god is adorned on the stones of door archways. Several stelae, which are carved flat pillars depicting glyphs of Mayan lore, can be found after hiking on a short jungle trail. Much of the site is unexcavated, and left to the beauty of nature. Although it is possible to travel to the site by auto, an air conditioned coach with a travel guide and plentiful water is advised to enjoy the trip to the fullest. For those that are enthusiastic, nearby is the Mayan ruin of Tulum overlooking a beautiful beach which is similar in architecture and design.
Coba ruins location and hours
2 hours drive from Playa del Carmen in Quintana Roo on the Yucatan peninsula. The easiest way to visit the ruins is to take a tour from a local company.
The ruins are open daily between 8 am and 5 pm, and there's an admission fee to be paid.
Advertisements:



Photo by Franklin Tello on flickr
You should follow me on twitter here.