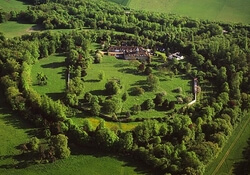 Wandlebury Hill Fort is an Iron Age hill fort located near Cambridge, England. It's first origins date back to 400 BC! It was initially contracted with a ditch on the outside and then a rampart bank consisting of materials such as soil, chalk, and rubble. There was at least one major entrance through the rampart. Over the next 2000 years, new ditches and improvements to the rampart were made.
In more recent times, King James II had a racing stable built inside the compound. The land was later acquired by Francis, the 2nd Earl of Godolphin and he improved the property by building a large manor house built and extensive gardens. The inner rampart was leveled during this same time period. The house has since been demolished, but the stables remain intact.
Visitors to this area today may be surprised to find very little evidence of either a hill or a fort. Because the inner rampart was leveled in the 1700s, and what remains is disguised by trees and other plants, the area is surprisingly flat, sitting just on the edge of a hill. You have to use your imagination to really envision how impressive the original Wandlebury Hill Fort was.
Advertisements:



Visitors to the area today still have many options, though. For one, the large stables build by King James II is still on site. In fact, the Godolphin Barb, which is one of three stallions that were the founders of modern Thoroughbred racing's lineage, is buried here. Wandlebury Country Park is also located there. It is a nature reserve that provides a great location for relaxing activities such as bird watching and taking walks through the countryside. There is a unique satisfaction in visiting a site that traces its roots back to the Iron Age!
Wandlebury Hill Fort address and hours
Wandlebury Hill Fort
Cambridge Preservation Society
Wandlebury Ring, Gog Magog Hills
Babraham, Cambridge
CB2 4AE
You should follow me on twitter here.