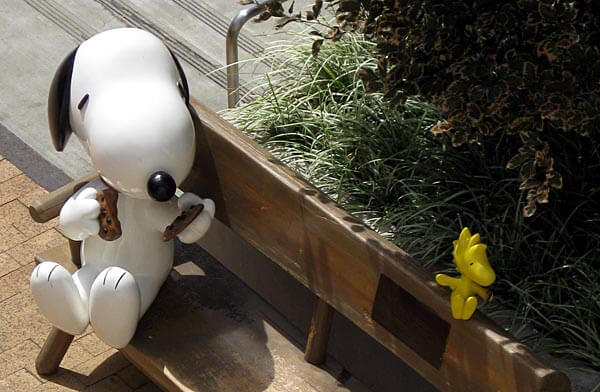 Fifty odd kilometers from San Francisco, Santa Rosa is your typical Californian town. Except it has a secret, and it is this secret that puts Santa Rosa on the map. For a few decades it was the home of Charles M. Schulz, better known as the creator of Snoopy and the Peanuts cartoon strip. Schulz was a quiet man and although his creations are beloved by many and incredibly famous, he was down to earth and an unremarkable resident in many respects. He squashed the notion of a statue of himself for Santa Rosa but when it was suggested that a Peanuts statue was erected he was in favor. Schulz died in 2000 and in 2001 the first Peanuts statue was erected - a bronze Charlie Brown and Snoopy.
Advertisements:



Since then statues of Peanuts characters have become a bit of an industry in Santa Rosa and tracking them down is great fun for fans and the simply curious alike. Themed shows have cropped up with local artists decorating characters in their own style and then displaying them around the town. 55 Charlie Browns were on display one year and then it was the turn of Woodstock. Lucy was the next one to get the treatment. The statues are dotted around the town and armed with a map and the right footwear, finding each of the statues, all of which are works of art in their own right is great fun. As you criss-cross the town there is plenty to enjoy and places to grab refreshments, and to complete the experience, drop into the Charles M. Schulz Museum. Snoopy, Charlie Brown and the crew have always been about fun and the artists involved truly get into the spirit with their retakes on the popular characters, breathing a breath of fresh air into Santa Rosa and creating a great family day out in the process.
Photo by wallyg on flickr
You should follow me on twitter here.